- TEAM HUMMER™ WINS THE SCORE BAJA 1000 -
November 10, 2001 - Ensenada, B.C., Mexico: Driving like the wind, Team HUMMER's Roger Norman overcame a 45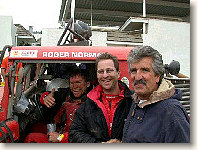 minute deficit in the final 200 miles of the 34th Annual SCORE Baja 1000 to win the Full Stock production class by seventeen minutes. Team drivers Chad Hall and Roger Norman finished the grueling 1000-Kilometer course in just over 22 hours, 22 minutes which also netted a third place finish for team owner Rod Hall in the #879 HUMMER SUV. Fourth in class went to John Griffin of Mission Viejo, Calif. in his independently owned and Rod Hall built HUMMER soft-top demonstrating once again that HUMMER is the ultimate 4-wheel drive vehicle.
Not content to merely take his turn behind the wheel of his #879 HUMMER SUV, the senior Hall also signed up to drive the #866 HUMMER Pick-up along with son Chad and former teammate, Roger Norman. This win marks the fifth Baja 1000 victory for Team HUMMER since 1993, when the Indiana based vehicle manufacturer first decided to engage in competitive off-road racing. It is also the 17th Baja 1000 victory for Rod Hall, who has competed in every one of the 34 events since the inaugural race in 1967 with a phenomenal 50% win ratio. With this victory, Hall becomes the only man in motorsports to have won a major international event in each of the last five decades!
"This was the toughest Baja 1000 course I can remember", said Hall. "There were deep ruts and boulders hidden by piles of silt which we call 'gotchas". It was technically very tight and there were traffic jams of race vehicles lined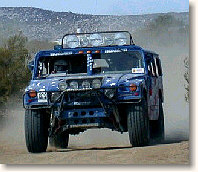 up on two of the large mountains we had to climb; the Summit and Mike's Sky Ranch, and no room to pass. At one of the hills Roy hooked up to three or four buggies and pushed them all over the crest of the hill like a locomotive so we could get on with our own race. When we arrived at the Summit, some guy in a Ford truck came over and offered to pay me to push him up the hill. I told him to stop by the dealership after the race and I'd sell him his own HUMMER!"
Of the 229 entries that took the starter's green flag, only 103 or roughly 45% were still running at the finish. According to race director, Roy Davidson, "We didn't really have much in the way of problems with the SUV aside from a wiper motor failure. The Pick-up had a fuel starvation problem, which we were able to correct after about 45 minutes by switching to a mechanical backup pump. Our crew did a hell of a job and aside from those minor issues the trucks performed flawlessly."
The final race of the season for Team HUMMER will be Best in the Desert Racing Association's Vegas 200 scheduled for Nov. 30th - Dec. 1st, 2001 in Las Vegas, Nevada.

For more information on HUMMER vehicles, visit www.hummer.com
and for more information on Rod Hall and team HUMMER visit www.rodhall.com
© Copyright 2001: Rod Hall Motorsports/All rights reserved