&nbspDesertRacing.com > News Archives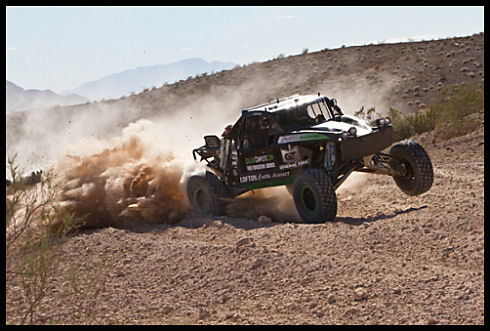 General Tire Mint 400 Rewind
Darren Skilton captures Class 3700 win on General Tires.
With the help of Mikey Childress,
Rick D. Johnson takes first annual
pit crew challenge win.
Vanessa Golub-Ferrara
crowned 2012 Miss Mint.
Bureau of Land Management
estimated a crowd of over
25,000 spectators.
In front of an estimated crowd of over 25,000 fans, Team GT took to the south Las Vegas desert for the 2012 General Tire Mint 400 over the weekend. The weekend kicked off with the first annual pit crew competition won by none other than Team GT member Rick D. Johnson. With the help of Mikey Childress, Johnson posted a time of just under one minute to beat out General Tire team member Jason Voss for the win. The following night, General Tire helped crown 2012 Miss Mint winner, Vanessa Golub-Ferrara. A fantastic start to the weekend which saw a harsh desert claim many victims throughout the 400-mile race.
This year's course was full of rocks, large holes, knee deep silt, and thick dust due to the winds and lack of rain. In fact, many drivers referenced the gnarly course as the most difficult race they've run so far. But the extreme conditions didn't stop Dakar Rally winner, and General Tire driver, Darren Skilton from capturing a win in Class 3700. Skilton also posted a second-place finish in the overall standings in the Sportsman race where several Team GT members participated as a pre-run for the Mint 400 including Childress who noted, "The Sportsman race was great because we were able to mark some scary parts on the GPS which helped in the big race."
Later in the day, the big guns took to the course for four laps of dusty, gritty, hair-raising racing. Justin Lofton posted a third-place finish in Class 1500 after overcoming a disappointing qualifying run. A well-deserved run after an accident prevented him from finishing Parker in February.
"It was definitely the toughest race I have run so far," said Lofton following the race. "The rocks and holes were huge. Also the dust was thick and lap traffic slowed us up quite a bit. Our General Grabbers worked great though. We changed rears half-way through the race but after looking at them, I don't think we needed to."
2011 Mint 400 class winner Childress ran up front most of the race before a mechanical failure cost the team precious time on the course relegating him to a fifth-place finish in Class 1500.
"We had a great race going until we lost a power steering belt." Childress continued, "It took 12 minutes to fix and we lost a couple positions. Overall our Grabbers were great! We didn't have any flats and our jack fell off at some point during the race so it's a good thing we didn't have to change tires because we couldn't."
Best In The Desert (BITD) champion, Macrae Glass, also posted a second place finish in Class 8000 for Team GT. Team GT now looks ahead to the next BITD race at Primm the weekend of May 3-6.