&nbspDesertRacing.com > News Archives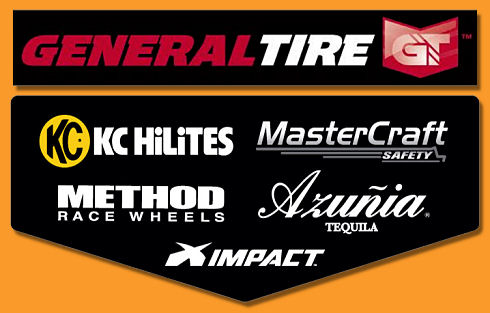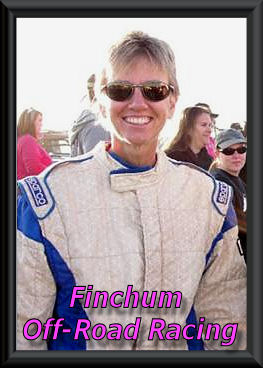 TROPHYLITE
Offers Women Racers
a Level Playing Field
Gaining pace in her fourth consecutive year of off-road racing, Fawn Finchum is excited to enter her first sanctioned General Tire TROPHYLITE point race as driver of record for the #6039 TL. Based out of Mesa Arizona, the Finchum team has campaigned two TROPHYLITE trucks before, but in a father and son combo with Bruce and son Ryan. This years BITD Mint 400 is sure to be one for the record books and Fawn is looking forward to it. Competing against 18 other TROPHYLITE trucks, including multiple time Baja 1000 winner Steve Hengeveld, back to back TROPHYLITE champion Gary Messer and current TROPHYLITE series point leader Troy Messer.
While Fawn is going to enjoy her first driver of record stats within the TROPHYLITE series she is no stranger to the top of the podium. Fawn brings with her the title of bringing home a Solo-drive victory at the 2010 SCORE San Felipe 250. Fawn gained her desert experience as a navigator for her husband Bruce as well as her son Ryan in the teams first few years of competition. Fawn has cut her teeth and polished her driving experience in the vast terrain that Baja has to offer, helping the Finchum Off-Road Racing team to a 2nd place finish in the 2010 Baja 1000.
"My ultimate goal is to have fun with my family, which we do. My next priority is to beat my husband Bruce!" states an eager Fawn. The 2012 Mint 400 will be Fawn's first Mint, as well as the first time a female driver has ever competed against the male dominated TROPHYLITE class. "This race is huge! It means a ton to a lot of different people around me and my family. I have been able to keep my composure knowing that I have a wonderful family that supports me, and an extended family of crewmembers that are there for us. We go all in, striving to finish everything that we start to the highest of our capabilities."
Fawn is proud of the team and sponsors that make up the intricate network behind the scenes of Finchum Off-Road Racing. Mark Cowan of Cowan Fabrication and Mechanical is a solid piece of the Finchum racing puzzle. Keeping the pair of Finchum trucks operating at peak performance, Mark has massaged the duo into a pair of highly tuned racers ready to win at any race they enter.
With the TROPHYLITE trucks being a spec racing vehicle, Fawn just like the other 18 trucks entered in the 2012 Mint 400 have an equal shot at the win. Each truck comes equipped with the same General Tires, KC Lights, Fox Shocks, Method Wheels, Currie Enterprises rear ends, Mastercraft seats and Impact safety equipment. "I feel that I have a great chance at winning the Mint just as Bruce and the 17 other trucks that we are competing against. There isn't another class that levels the playing field like TROPHYLITE, and that's why we love it" said Fawn.
Successful in business, Fawn knows exactly what it takes to do a job right and the dedication it takes to get there. While husband and wife will race under the same Finchum banner, when the green flag drops there are no team orders. Fawn stated "We are going to win, and of course I hope Bruce gets second!" To help with navigation duties for the milestone race, Fawn has selected the help of two time TROPHYLITE champion Louis Chamberland. "The Finchum team has always been nothing short of exceptional during my time behind the wheel of TROPHYLITEs, I only hope to repay some of the great memories they have given me over the past few years with a race result they can be proud of" said Louis.
Fawn would like to thank her sponsors that support Finchum Off-Road Racing. Race Optics- Sports Camera Technology, Cowan Fabrication and Mechanical, Mobile Radio Communications, and Smith-Southwestern Inc, as well as the TROPHYLITE series sponsors, General Tire, KC Hilites, Method Race Wheels, Currie Enterprises, Fox Racing Shocks, Azuņia Tequila, Mastercraft Seats and Impact Safety Equipment.
About TROPHYLITE
The General Tire TROPHYLITE Race Series was created to provide an affordable alternative to the high cost of racing. Drivers are pitted against each other in identical vehicles that provide the thrill of competitive offroad racing without the million dollar price tag. All TROPHYLITE race vehicles are precisely constructed to maintain parity and use the finest quality components available. TROPHYLITE allows you to compete in a fun, fast, race proven vehicle right out of the box. With generous sponsorship from General Tire, KC Hilites, Mastercraft Safety, Method Race Wheels, Azunia Tequila and Impact you can cash in on the $50,000 in prize money that is up for grabs during the 2012 season.
For more information about TROPHYLITE, visit www.trophylite.com