&nbspDesertRacing.com > News Archives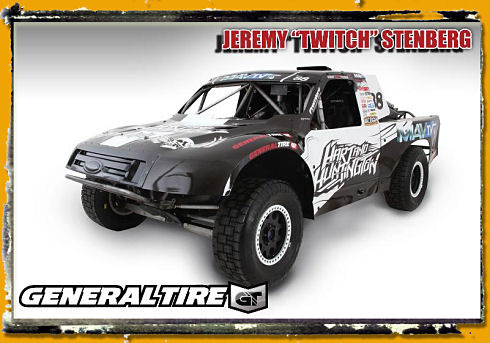 Pro Lite Champion Casey Currie
Joins General Tire's
Off-Road Program for 2011 and
Debuts New Truck Design
Chandler, Ariz. - (March 18, 2011) - Team General Tire is ready to dominate the Lucas Oil Off-Road Racing Series at Firebird Raceway March 19-20, 2011.
Team General Tire will be well-represented at Firebird Raceway in Chandler, Ariz., with Carl Renezeder competing in Pro 2 Unlimited and 4; Robby Woods in Pro 2 Unlimited; newly-signed Casey Currie in Pro Lite Unlimited; Jeff "Ox" Kargola debuting his new truck design in Super Lite and the Premier Motorsports Group with Josh Merrell in Pro 4 Unlimited; and new team additions Jeremy "Twitch" Stenberg in Pro 2 Unlimited and Jason Ellis in Super Lite.
General Tire is "unleashing the fury" for a fourth season of off-road action with the Grabber competition tire. Designed with a tough, three-ply Duragen™-reinforced body construction to stand up to the rigors of off-road conditions, the Grabber also features a specially-engineered, competition-specific tread compound. In addition, the Grabber name and General Tire logo are prominently featured on the sidewall in red and white letters. The Grabber competition tires are designed in size 37x12.50R17 for Class 8 and Trophy Truck/Trick Truck and 35x12.50R17 for Class 1, 6, 7, 7 S, Stock Mini and Protruck.
General Tire also has a complete line of Grabber tires for the passenger and light truck market, including the new Grabber DOT-approved off-road tire; the Grabber HTS, which delivers the perfect synergy of comfort, durability and performance; the Grabber UHP, which sets a whole new standard in performance and ride quality for SUVs, light trucks and crossover vehicles; and Grabber AT2, designed for aggressive all-terrain traction in all weather conditions.
General Tire is a proud supporter of Lucas Oil Off-Road Racing, Chili Bowl, Pro-Pulling, Late- Model Dirt Series, Drag Boat Series, Boost Mobile FreestyleMx.com Tour, Spec Tire of Trophylite and Pro Truck. Team GT supports off-road and short course teams including BJ Baldwin, Carl Renezeder, Rick D. Johnson, Jerry Zaiden/Jason Campbell, Jason/Rich Voss, Scott Steinberger, Ed "Clyde" Stout, Marc Burnett, Kent Kroeker, Mikey Childress, Carey Hart, Josh Merrell, Jeremy "Twitch" Stenberg, Robby Woods and Jeff "Ox" Kargola.
About the Lucas Oil Off Road Racing Series:
The Lucas Oil Off Road Racing Series (LOORRS) is the evolution of the long standing support of short course racing by Forrest Lucas and Lucas Oil Products. Steeped in the Midwest tradition of short course off road racing infused with a West Coast influence, LORRS brings intense four wheel door to door action to challenging, fan friendly tracks. Lucas Oil Off Road Racing Series: This is Short Course.