&nbspDesertRacing.com > News Archives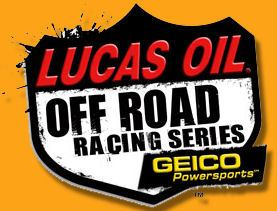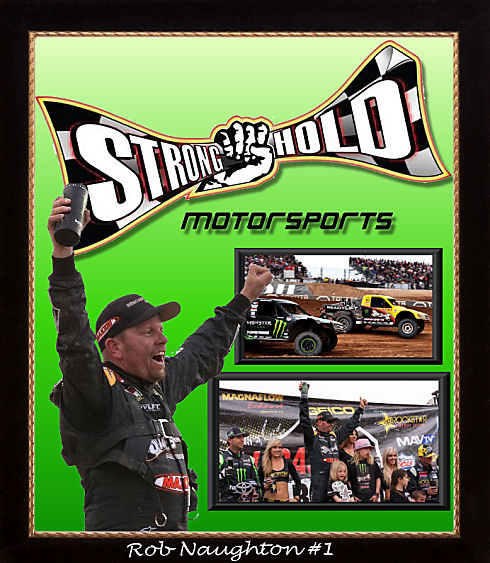 STRONGHOLD MOTORSPORTS
MAKES HISTORY IN
LUCAS OIL OFF ROAD OPENER
Riverside, California (March 23, 2011) - A standing room only Firebird Raceway crowd witnessed Arizona's Rob Naughton battling Stronghold Motorsports teammate Jeremy McGrath in the final laps to capture the first win of his Pro 2 Unlimited career.
McGrath, making his first appearance for Stronghold Motorsports in the Pro 2 class, settled for a hard fought second place spot on the podium as the teammates took the top two positions on the podium in Round 2. Naughton and McGrath's results in Sunday's action represents the first time in Lucas Oil Off Road Racing Series history that teammates earned a one-two finish in the premier class in short course off road racing.
After a challenging Saturday Pro 2 main event, which found the Stronghold Team reevaluating the data collected during extensive off season testing, both drivers and crew battled back from disappointing Round 1 results. "It feels amazing to get this win for the Stronghold team, "exclaimed an overjoyed Rob Naughton. He continued. " To to do this in front of my home crowd and stand side by side with Jeremy on the podium in our first weekend as teammates is the best thing imaginable. Our team came together and fought to achieve this. It's an incredible accomplishment for all of us."
McGrath, with his second place finish, quickly put Saturday's results behind him and found himself battling for the lead on Sunday. "We really had to look at the setup of the truck and how much the track had changed since we tested here," said the seven-time Supercross champion. "After Round 1, we had to go back to the drawing board and the crew worked hard to get the package sorted out. I really felt like everything came together for Sunday and the truck really worked. It was a great battle and I'm happy for Rob and the entire Stronghold Team."
This weekend marked the ProLite Unlimited debut of Cameron Steele. With extensive off season testing with the Stronghold Team, the 2010 ProBuggy champion was well prepared to enter the fray in the wildly competitive ProLite Unlimited class. He quickly demonstrated that his transition from open wheel buggies to 300+ horsepower trucks would be a quick one as he finished the weekend with a pair of top 10 results. Brandon Bailey also saw the efforts of his off season seat time pay off as he took home a pair of top ten finishes in a very deep ProBuggy class. Bailey's 6th place finish on Sunday represented his career best result in the class. Rob and Jeremy on Podium round 1 2011
Stronghold Motorsports will make its next appearance when the Lucas Oil Off Road Racing series returns to Arizona for Rounds 3&4 at Speedworld Off Road Park in Surprise.
The 2011 Stronghold Motorsports Team:
Jeremy McGrath - Monster Energy/ReadyLift Stronghold Motorsports Pro 2 Unlimited (Toyo Tires)
Rob Naughton - Stronghold Motorsports/ReadyLift/Lucas Oil Pro 2 Unlimited (Maxxis Tires)
Cameron Steele - Monster Energy/ReadyLift/Stronghold Motorsports ProLite Unlimited (Yokohama Tires)
Brandon Bailey - Stronghold Motorsports/Yokohama/LambEnergy Pro Buggy (Yokohama Tires)
Stronghold Motorsports is Sponsored by:
Monster Energy Drink · ReadyLift · Lucas Oil
Maxxis Tires (Rob Naughton)
Toyo Tires (Jeremy McGrath)
Yokohma Tires (Cameron Steele/Brandon Bailey)
Lamb Renewable Energy · ProAm Racing Products · Fox Shox
Motive Gear · Fiberwerx · Multi Mechanical · Makita
MSD Ignition · LOSI R/C · Dart · K&N Filters · Eibach Springs
Spy Sunglasses · Roush Yates Engines
GoPro · Alpinestars
About the Lucas Oil Off Road Racing Series:
The Lucas Oil Off Road Racing Series (LOORRS) is the evolution of the long standing support of short course racing by Forrest Lucas and Lucas Oil Products. Steeped in the Midwest tradition of short course off road racing infused with a West Coast influence, LORRS brings intense four wheel door to door action to challenging, fan friendly tracks. Lucas Oil Off Road Racing Series: This is Short Course.