&nbspDesertRacing.com > News Archives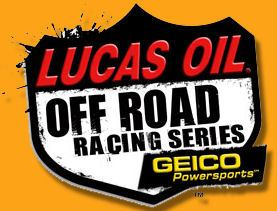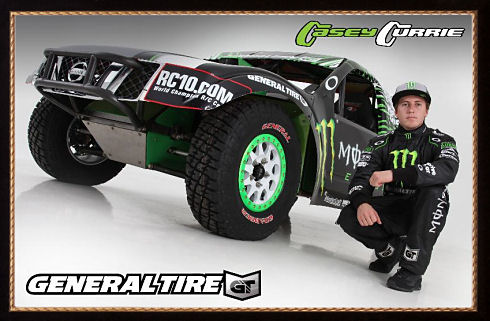 Casey Currie Pro Lite Champion
Joins General Tire's
Off-Road Program for 2011
and Debuts New Truck Design
Fort Mill, SC. General Tire announced sponsorship of Pro Lite short-course driver Casey Currie, known for sweeping the TORC champion weekend at Crandon last year and taking home the series Pro Lite title. Currie has signed a multi-year sponsorship with General Tire and will beginning racing on the Grabber LT265/75R16 tires at the Lucas Oil Off-Road Racing Series this weekend.
Born into a motorsports family, Currie started racing motorcycles when he was just 5-years-old and trucks at 16. Taking home his first major win in 2003, Currie championed the MDR series in his JeepSpeed truck. In 2004, Currie switched to Pro Truck and Class 1, taking second in Pro Truck at the Baja 1000 and third in Class 1 at the Baja 500. And his podium wins get even more impressive; He took home 2nd overall in the 2008 and 2009 King of Hammers, finished second in Round 1 and 2 of the 2010 M4SX Trophy Kart, and took home the championship win at the 2010 TORC series.
"2010 was a monumental year for me," said Currie. "I set out to win the TORC series, and that's exactly what I did. This General Tire sponsorship is the perfect way to start off an even better 2011. I see how hard the Team GT drivers work and I know that the tires they run work just as hard. I'm proud to be a part of this great team and start of the year on the best tires in off-road racing."
Currie will be debuting a new truck design for the 2011 season at the Lucas Oil Off-Road Race in Chandler, AZ.
In 2011, Currie will race for victories at the Lucas Oil Off-Road Racing Series and the TORC series.
For more than 90 years General Tire has offered a complete quality line of ultra-high performance, passenger, light truck, off-road and commercial tires to meet all your needs. General Tire is a proud supporter of Lucas Oil Off-Road Racing, Chili Bowl, Pro-Pulling, Late- Model Dirt Series, Drag Boat Series, Boost Mobile FreestyleMx.com Tour, Spec Tire of Trophylite and Pro Truck. Team GT supports off-road and short course teams including BJ Baldwin, Carl Renezeder, Rick D. Johnson, Jerry Zaiden/Jason Campbell, Jason/Rich Voss, Scott Steinberger, Ed "Clyde" Stout, Marc Burnett, Kent Kroeker, Mikey Childress, Carey Hart, Josh Merrell, Jeremy "Twitch" Stenberg, Robby Woods and Jeff "Ox" Kargola.
About the Lucas Oil Off Road Racing Series:
The Lucas Oil Off Road Racing Series (LOORRS) is the evolution of the long standing support of short course racing by Forrest Lucas and Lucas Oil Products. Steeped in the Midwest tradition of short course off road racing infused with a West Coast influence, LORRS brings intense four wheel door to door action to challenging, fan friendly tracks. Lucas Oil Off Road Racing Series: This is Short Course.