&nbspDesertRacing.com > News Archives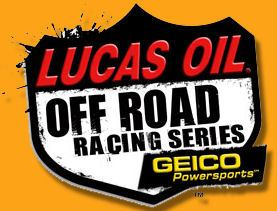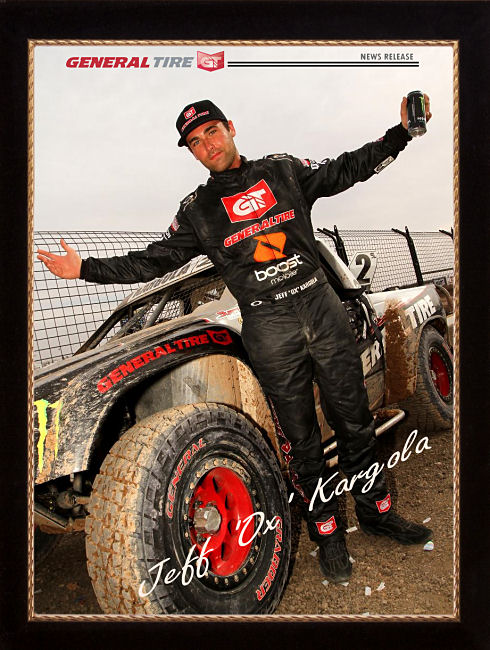 Jeff 'Ox' Kargola
Annihilates the Competition,
Taking First at Round 2 of the
Lucas Oil Off-Road Racing Series
And Placing Second Overall
Ox Celebrates His
First-Ever Victory in Superlite
Chandler, Arizona. - (March 23, 2011) - Team General Tire's Jeff 'Ox' Kargola tore up the course Sunday, taking home his first-ever victory in Superlite and earning second position overall in the class.
As the sun beamed over the legendary Firebird Raceway in Chandler, Arizona, the crowd at Round 2 of the Lucas Oil Off-Road Racing Series anxiously awaited the sure-to-be action-packed Superlite race. Ox, a freestyle MX rider and Baja MX racer and a relatively new driver to the off-road scene, was ready to take on the rigorous course.
Though the cards were stacked against him, racing alongside several Superlite veterans, Ox and his new Superlite truck fitted with General Tire Grabber street tires fought hard for the lead, muscling his way to the front and leaving the competition in the dust.
"This win is a huge career victory for me," said Ox after taking the podium in Chandler. "I've fought hard for a win since I started racing in Superlite, and to place so early in the series is exactly what I was fighting for. I'm pumped for what's to come next with Team GT and I couldn't have asked for a better start to the season."
Ox started his off-road career racing in the SCORE series in Class 22 and has since been making big waves in the off-road racing scene. He announced his move to Superlite at the end of the 2010 season. Fresh off his 2011 SCORE San Felipe 250 win in Class 22, he was fired up for this race. In 2010, Ox placed first at the San Felipe 250 in Class 22 and stole third in Superlite at the LOORRS Glen Helen Race. Earlier in his career, Ox earned a silver medal at the Winter X Games for "Best Trick," was a WFA Big Air Points Champ and was the first person to complete a "Superman Seat-Grab Back Flip." And that's just recently - Ox has been chalking up wins and titles since 2001.
For more than 90 years General Tire has offered a complete quality line of ultra-high performance, passenger, light truck, off-road and commercial tires to meet all your needs. General Tire is a proud supporter of Lucas Oil Off-Road Racing, Chili Bowl, Pro-Pulling, Late- Model Dirt Series, Drag Boat Series, Boost Mobile FreestyleMx.com Tour, Spec Tire of Trophylite and Pro Truck. Team GT supports off-road and short course teams including BJ Baldwin, Carl Renezeder, Rick D. Johnson, Jerry Zaiden/Jason Campbell, Jason/Rich Voss, Scott Steinberger, Ed "Clyde" Stout, Marc Burnett, Kent Kroeker, Mikey Childress, Carey Hart, Josh Merrell, Jeremy "Twitch" Stenberg, Robby Woods and Jeff "Ox" Kargola.
General Tire is part of Continental Tire the Americas, LLC. CTA, based in Fort Mill, South Carolina, is a company of Germany-based Continental AG. With sales of approximately €20 billion in 2009 Continental is among the leading automotive suppliers worldwide. As a supplier of brake systems, systems and components for powertrains and chassis, instrumentation, infotainment solutions, vehicle electronics, tires and technical elastomers, Continental contributes enhanced driving safety and global climate protection. Continental is also a competent partner in networked automobile communication. Continental currently employs approximately 134,500 in 46 countries.
About the Lucas Oil Off Road Racing Series:
The Lucas Oil Off Road Racing Series (LOORRS) is the evolution of the long standing support of short course racing by Forrest Lucas and Lucas Oil Products. Steeped in the Midwest tradition of short course off road racing infused with a West Coast influence, LORRS brings intense four wheel door to door action to challenging, fan friendly tracks. Lucas Oil Off Road Racing Series: This is Short Course.