&nbspDesertRacing.com > News Archives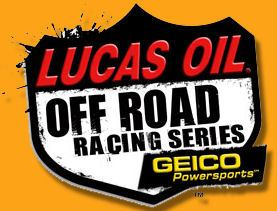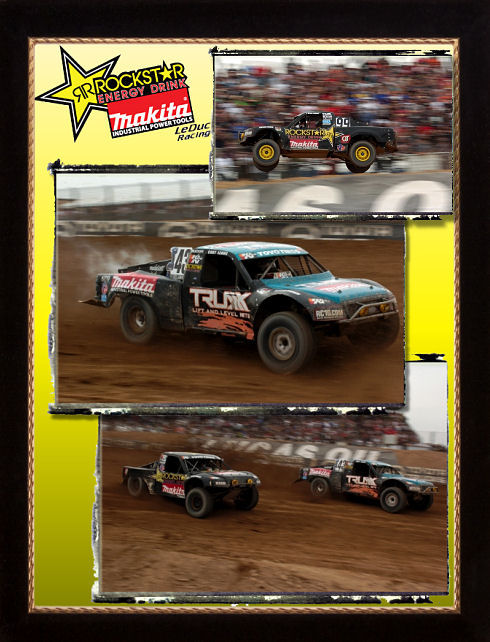 Sparks Fly For
Team LeDuc Racing
At First LOORS Race
Of The 2011 Season
The new season brought many changes for the hardworking LeDuc family as they returned to Firebird International Raceway for the first Lucas Oil Off Road Racing (LOORS) short course event of the season. This is the same track where Kyle LeDuc won the $30,000 Rockstar Energy Lucas Oil Off Road Challenge Cup in his ROCKSTAR Energy Drink / Makita Tools Ford just three months prior, so expectations were high coming into the new season.
McGrath, making his first appearance for Stronghold Motorsports in the Pro 2 class, settled for a hard fought second place spot on the podium as the teammates took the top two positions on the podium in Round 2. Naughton and McGrath's results in Sunday's action represents the first time in Lucas Oil Off Road Racing Series history that teammates earned a one-two finish in the premier class in short course off road racing.
The elder LeDuc added a new title sponsor in Truxxx Lift and Level, Curt's son Kyle LeDuc committed to running both Pro4 Unlimited and Pro Lite for the entire season in search of dual championships, and Kyle's brother Todd LeDuc unveiled a new truck. No, Todd wasn't behind the wheel of the Blue Thunder monster truck that he has been piloting in Monster Jam, at Firebird Todd debuted a brand new Pro4 Unlimited truck to join the rest of the family in short course racing's fastest class.
"ROCKSTAR Energy Drink is well represented in Pro2 Unlimited with Rob MacCachren and Brian Deegan," Todd explained. "I love to race regardless of the class or venue, and Pro4 suits me really well." Backing up those words, Todd qualified sixth for Saturday's race, which put him on the front row next to Carl Renezeder when the green flag dropped. At the half way mark of the race the three LeDucs were sitting in third, fourth, and fifth place and ready to pounce on the drivers in front of them.
In the blink of an eye, the LeDuc's assault on the leaders in their ROCKSTAR Energy Drink / Makita Tools and Truxxx Fords went horribly wrong when Kyle experienced a violent rollover in front of not just the packed bleachers, but his father and brother as well. On the next lap Todd lost a tire after contact with Steve Barlow. While he was robbed of a spot on the podium Todd continued on course to earn valuable season points before being black flagged. This left Curt LeDuc as the final family member on the track, finishing just off the podium in fourth place. "Truxxx is located just down the road in Tucson so the whole crew came up to watch the race in person. They were thrilled that we did so well in the first race of the season." Curt commented
While Kyle's truck was beaten from his Pro4 rollover, his spirits were not. Kyle got behind the seat of his No. 99 Pro Lite on Saturday to battle once again. The fans were on their feet for what was arguably the best race of the weekend as Kyle's Toyo tires propelled his ROCKSTAR Energy Drink / Makita Tools truck to a fourth place finish; less than two seconds from a podium appearance. There was little time to celebrate though, as the LeDuc team grabbed their Makita tools and were fueled by ROCKSTAR Energy Drink to keep them alert as they worked until 2 AM in the morning to repair Kyle's Pro4 Unlimited truck for Sunday's racing.
Kyle qualified sixth for Sunday's Pro4 race and was working his way to the front of the 15 truck field before a broken axle shaft dashed his hopes for victory with four laps remaining. Kyle's father Curt was doing battle with Carl Renezeder for much of the race, just as he had done on the previous day. Neither man was willing to budge an inch, but it was Curt's No. 43 Ford who eventually had to give ground to Renezeder on the track. Todd LeDuc had his hands full with Adrian Cenni as well as Renezeder, threading the No. 4 ROCKSTAR Energy Drink / Makita Tools Ford through the competition to finish fifth in Pro4 Unlimited.
Kyle qualified fifth in Pro Lite on Sunday and worked his way up to third place after the mandatory caution before a spectacular mid-air collision with Jimmy Stephenson and Corey Sisler unsettled his truck. Fortunately the outcome was not as catastrophic as the previous day, and Kyle was able to continue for a seventh place finish in Round 2 of Pro Lite racing.
If you missed last weekend's action in Phoenix, or just can't get enough of LOORS short course racing, you can still catch the LeDucs and their Truxxx and ROCKSTAR Energy Drink / Makita Tools trucks on CBS, the Speed Channel, Versus, and MavTV. Expectations are high for the LeDucs when Rounds 3 and 4 of LOORS racing are held at Speedworld Race Park in Surprise, Arizona on April 16 and 17. Could we see history made with the LeDucs all on the podium in Pro4 next month? Kyle LeDuc had two podium finishes at Speedworld last season in his ROCKSTAR Energy Drink / Makita Tools Pro4, while his father Curt had two fourth place finishes, so a clean sweep is certainly not outside of the realm of possibility.
ROCKSTAR Energy Drink / Makita Tools
Team LeDuc Racing is Sponsored by:
ROCKSTAR Energy Drink • Makita Tools • Toyo Tires
Truxxx Lift and Level • KC HiLites • KMC Wheels
King Shocks • Circle K • Dart Machinery
MSD Ignition • MasterCraft Safety • K&N Filters • Simpson
Leatt Brace • Ford Trucks • Beco Radiators • Kalgard
About the Lucas Oil Off Road Racing Series:
The Lucas Oil Off Road Racing Series (LOORRS) is the evolution of the long standing support of short course racing by Forrest Lucas and Lucas Oil Products. Steeped in the Midwest tradition of short course off road racing infused with a West Coast influence, LORRS brings intense four wheel door to door action to challenging, fan friendly tracks. Lucas Oil Off Road Racing Series: This is Short Course.
Photography By: Art Eugenio