&nbspDesertRacing.com > News Archives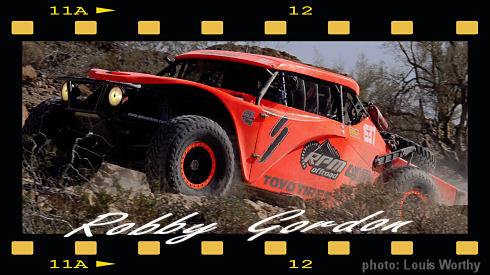 Robby Gordon and Toyo Tires®
Win the Bluewater Resort & Casino
Parker 425
PARKER, ARIZONA – Robby Gordon returned to the U.S. after a fifth overall finish in the Dakar™ to win his first U.S. off-road race of 2012, the Best In The Desert series Bluewater Resort & Casino Parker 425 in Parker, Arizona. Gordon switched gears from piloting his trophy truck for this race, instead driving the SPEED Energy/Toyo Tires® open wheel Class 1500 buggy owned by Clyde Stacey of RPM Offroad. Gordon relied on 39x13.50R17 Toyo® Open Country M/T®-R tires for the overall victory.
During Friday qualifying, both Team Toyo® Off-Road desert aces, BJ Baldwin and Robby Gordon, secured the second and third overall qualifying spots out of a massive field of 277 entries (34 entrants in Trick Truck and 54 in Class 1500.) Baldwin also competed on 39x13.50R17 Open Country M/T-R tires with his Monster Energy/Toyo Tires Chevy Silverado in the Trick Truck class. He took the lead in the Parker race after the front-running truck broke an engine. Gordon ultimately passed Baldwin to capture the lead and the overall win.
"Thanks to RPM Offroad and Clyde Stacy for lending me their car. It was a great day for SPEED Energy and Toyo Tires. It feels good to be back on the podium after a successful Dakar Rally and to come here and run trouble free," said Gordon. "I lost a little time while finishing the first lap, but we passed BJ after his pit stop and never let up. It was good for us that Rob MacCachren broke and the road was open for us to take the lead. I can't say enough about the tires as they proved again that they can run on any vehicle and once again sit on top of the podium. I look forward to carrying this momentum into the rest of the off-road season."
"Robby Gordon drove an amazing race and proved once again that he can win while at the controls of any vehicle," said Stan Chen, manager of events and motorsports, Toyo Tire U.S.A. Corp. "With their success supported by their Toyo Open Country M/T-R tires, both Robby and BJ have demonstrated they are driven to dominate in off-road in 2012."
Robby Gordon's next race is this coming Friday and Saturday in the King of the Hammers located in the deserts of Southern California in Johnson Valley. Gordon will compete for the first time in this prestigious event, which is a combination of rock crawling and desert racing. His tire of choice is the Toyo 39X13.50R17 Open Country M/T-R.
About Toyo Tire U.S.A. Corp.
Toyo Tires manufactures and distributes a complete line of premium replacement tires for nearly every make and model including high performance cars, luxury vehicles, light trucks and SUVs as well as tires for commercial trucks.
For more information log onto www.toyotires.com .