&nbspDesertRacing.com > News Archives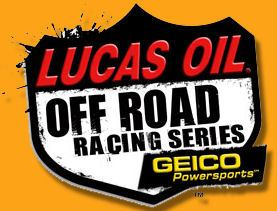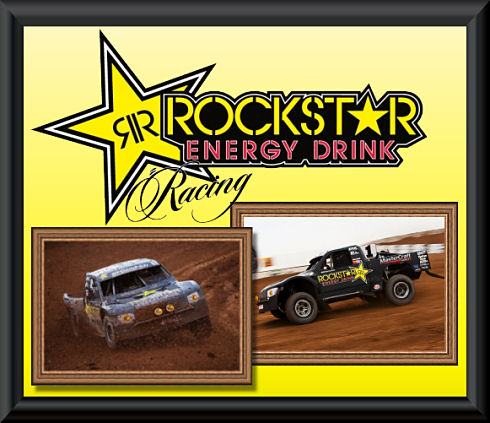 Desert Racing Rockstar Rob MacCachren
Experiences Ups and Downs
At 2011 LOORS Season Opener in Phoenix
ROCKSTAR driver Rob MacCachren started the 2011 Lucas Off Road Racing Series (LOORS) season the same way he ended the 2010 season: fast! MacCachren qualified first in the premier Pro2 Unlimited class on Friday in his ROCKSTAR Energy / BFGoodrich Tires / MasterCraft Safety Ford. Due to the first two row inversion, Rob started outside of the second row when the green flag dropped. Displaying the patience that he is famous for, MacCachren waited for mistakes from others to capitalize and move forward through the traffic. Contact from Brian Deegan unsettled MacCachren's truck towards the end of the race but Rob was able to maintain his composure. When the tables were turned and MacCachren got into the back of Deegan though, the latter spun out on the last lap of the race.
When the dust and the "hockey fight" between the two diametrically opposed Rockstar drivers was settled, the No. 1 Ford crossed the finish line in third place; a mere seven seconds behind the winner, but LOORS officials penalized Rob for his contact with Deegan. The controversial penalty pushed MacCachren back to eleventh overall in the first round of racing. The scores of "Rob Mac" fans filling the bleachers were left puzzled how the squeaky clean MacCachren could come out as the bad guy against Metal Mulisha's "General," Brian Deegan.
Sunday saw MacCachren qualify first once again, eager to put the perceived wrong doing behind him and get back to the podium. Unfortunately fate had other ideas and the driveshaft transferring power from the 800 horsepower engine in MacCachren's ROCKSTAR Energy / BFGoodrich Tires / MasterCraft Safety Ford detonated early in the race. It was a disappointing way to end what had already been a frustrating weekend for the perennial champion. "This is not how I expected this weekend to play out," MacCachren commented on Sunday night. "It's upsetting for the crew, my sponsors, and especially for me because I knew I could do well here. We won here at Firebird Raceway just a few months ago at the end of the 2010 season and my truck is just as fast now as ever; qualifying showed that. It's going to take me a while to dig myself out of this hole, but there is still a lot more racing left in the year."
The next stop for ROCKSTAR Energy Drink's Rob MacCachren will be Rounds 3 and 4 of action-packed LOORS racing at Speedworld Off Road Park in Surprise, Arizona on April 16 and 17. Make plans now to come for the entire weekend and look for the ROCKSTAR Energy/BFGoodrich Tires/MasterCraft Safety Ford of Rob MacCachren. It will be easy to find, wearing the No. 1 plate representing his 2010 Pro2 Unlimited championship. While he is all business on the track, MacCachren is always happy to sign autographs and hand out potent ROCKSTAR Energy Drinks before the race begins. Until then, look for coverage from this weekend's race at Firebird International Raceway on CBS, the Speed Channel, Versus, and MavTV.
Rob MacCachren is sponsored by:
ROCKSTAR Energy Drink • BFGoodrich Tires
Impact by MasterCraft Safety • TRAXXAS
KC HiLites • Fox Racing Shox • Motive Gear
ProAm Racing Products • Racin' Dirty
K&N Filters • TCS Performance Products • Patton Racing Engines
Rancho Drivetrain Engineering • Dailey Engineering • Boatec
About Rob MacCachren:
Rob MacCachren is often regarded as the greatest off-road driver in the world. His 25 year racing career includes an unmatched 180 race victories and 20 series championships in short course and open desert racing. Amongst those victories are 5 SCORE Baja 500 wins and 5 SCORE Baja 1000 victories, the crown jewel of which was MacCachren's domination at the 1296 mile run down the peninsula at the 2007 SCORE Baja 1000. In short course racing, good things come in threes for MacCachren as he has won three consecutive series championships, three consecutive Borg Warner Cup races, and three Governor's Cups.
About ROCKSTAR Energy Drink:
ROCKSTAR is the world's most powerful energy drink. Enhanced with the potent herbal blend of Guarana, Ginkgo, Ginseng and Milk Thistle, ROCKSTAR is formulated to provide an incredible energy boost for those who lead active and exhausting lifestyles - from athletes to rock stars.
ROCKSTAR ENERGY DRINK is available in eighteen amazing flavors: Original, Sugar Free, Zero Carb, Juiced Mango Orange Passion Fruit, Juiced Guava, Juiced Pomegranate, Tropical Punched, Punched Citrus, Roasted Mocha, Roasted Latte, Roasted Light Vanilla, Roasted Espresso, Energy Cola, Recovery Lemonade, Recovery Grape, Recovery Orange, Pink, and 2X.
ROCKSTAR ENERGY DRINK is available at convenience and grocery retail outlets across the United States, Canada, Australia, Austria, Belgium, France, Ireland, New Zealand, Japan, Germany, Switzerland, Finland, Spain, The Netherlands, the United Arab Emirates, Greece, Mexico, the Philippines and throughout the United Kingdom.
ROCKSTAR ENERGY DRINK supports the active ROCKSTAR lifestyle in every sport. In Motocross, Supercross, FMX, Off Road Racing, MotoGP, Road Racing, Rally Racing, Rallycross, Snowboard, Snowmobile, Ski, Surf, Skate, Wake, MMA, Boxing, Bull Riding, BMX, and BMX Racing. Go to www.ROCKSTAR69.com or www.facebook.com/ROCKSTAR for athlete and event updates, videos, profiles, and product information.
About the Lucas Oil Off Road Racing Series:
The Lucas Oil Off Road Racing Series (LOORRS) is the evolution of the long standing support of short course racing by Forrest Lucas and Lucas Oil Products. Steeped in the Midwest tradition of short course off road racing infused with a West Coast influence, LORRS brings intense four wheel door to door action to challenging, fan friendly tracks. Lucas Oil Off Road Racing Series: This is Short Course.