&nbspDesertRacing.com > News Archives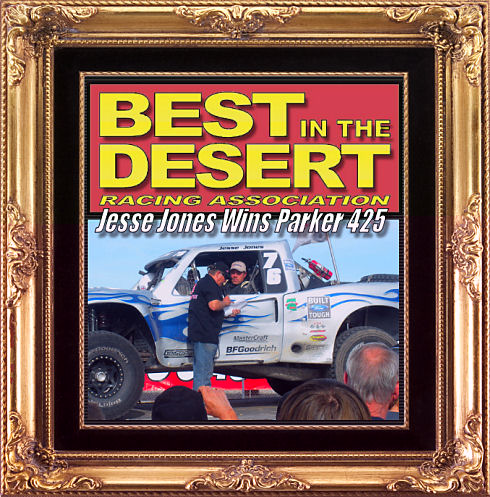 BEST IN THE DESERT
BLUE WATER RESORT & CASINO PARKER "425"
OVER 200 ENTRIES & TIGHT FINISHES HIGHLIGHT THE DAY!
OVERALL RACE WINNER JESSE JONES
TAKES HOME AN EXTRA $12,000
IN TRUCK TRUCK CHALLENGE CUP MONEY!
Parker, AZ – Casey Folks pulled off another exciting adventure in the desert as this year's Blue Water Resort & Casino Parker "425" had over 212 entries leave the start line in the middle of downtown Parker, Arizona. Once again the streets of Parker Arizona were lined with thousands of locals and race fans to watch the top racers in the nation start the first race of the Best In The Desert 2011 season for the car and truck classes, the Blue Water Resort & Casino Parker "425". Earlier in the week, just after Time Trials were won by Sam Berri, downtown Parker, Arizona turned into a multi-million dollar collection of the fastest off-road race cars and trucks, at the Downtown Parker Experience. The Parker Chamber of Commerce said this race brings over 25,000 people into the community and the large crowd enjoyed the sunny afternoon talking with racers, and finding out more about these incredible race cars and trucks.
Then on race day, what started out as a beautiful Arizona morning stayed that way for the entire race - no deluges as in year's past. "Team Ford Pole Winner" Sam Berri left the line first followed by Andy McMillin and Robby Gordon. McMillin and Gordon were close on time when Gordon had to retire due to mechanical issues. At one point Andy McMillin had built a 10 minute lead but then failed to negotiate a hard turn on near the end of the second lap and put the #31 Trick Tuck in a giant hole on a hard crash causing terminal damage to the front suspension. Rob MacCachren then inherited the lead for a brief time when he too went out with mechanical troubles. That left the door open for the Ford Trick Truck of Jesse Jones. Starting in the 7th spot, Jesse drove a steady pace, and while encountering minor electrical problems, managed to bring his truck across the line for the First Overall win along with the Trick Truck victory.
First physically across the finish line in Class 1500 was pole winner Sam Berri. But while he sat atop the Ford Mesa podium he found out that Adam Pfankuch had beaten him on time. Then Steven Appleton came in. Having started in the 39th spot overall, he made up a lot of time and claimed the top spot in the 1500 Class, edging Pfankuch by a mere 27 seconds and dropping Berri to the third spot. With Parker being the inaugural race of the new Best in the Desert Trick Truck Challenge Cup, for his First Place finish, Jesse Jones took home an additional $12,000, Troy Herbst received $ 6,300 for second and Steve Sourapas claimed $3,300 for his third place finish. A big start to a great year for the Trick Truck Challenge Cup contenders! Also of note, after having won every race in 2009 and 2010, Macrae Glass, in his KC HiLiTES sponsored Class 8000 Ford truck, continued his dominance of the class with yet another victory.

Top       Class Winners Included:
Class     Veh. #        Driver Vehicle/Brand
1000      1038          Michael LaPaglia, Mike Lapaglia Sr.,
                        Anthony LaPaglia, Nick LaPaglia/
                        Racer Engineering
1100      1181          Gregg Ryan, Jake Savant,
                        Dwaine Walters,
                        Brandon Wells/Custom
1200      1220          Ryan Staats, Alex Staats,
                        Steven Staats,
                        Robby Kennedy/Ford
1400      76            Jesse Jones, Joe Weining/Ford
1500      1559          Steven Appleton, John Armas/Jimco
1700      1735          Jefff Coan, Jon Krellwitz, Sklyer
                        Gambrelli/Jeep
1800      1844          Tim Hunt, Dave Schweickert,
                        Kenneth Famer,
                        Geon Hill/Alumicraft
2000      2008          Hank Winter, Dustin Winter,
                        Greg Chandler,
                        Jeff Huebner/Bunderson
3000      3027          Keith Waibel, Jeff Vetter/Custom
3700      3701          Tom Barnett, Bruce Kerstner,
                        Clive Skilton/Jeep
4400      4402          Kevin Stearns,
                        Kyle Crowley/Chevrolet
5000      5013          AJ Martin, Mark Martin,
                        Ralph Salazar,
                        Clay Currier/VW
5100      5105          Ronald Welch Jr.,
                        Anthony Honadick/VW
6000      6015          Steve Hengeveld, Joe Hengeveld,
                        Elliott Brainard,
                        Garett Hall/Trophylite
7100      7132          Jayson Strachan, James Burman,
                        Ryan Upthegrove, Kyle Gervais/Ford
7200      7226          Alan Hogan, Bonb Brunkan,
                        Rob Reinertson,
                        Mike Salembini/Ford
8000      8025          Macrae Glass, Michael DeHaas/Ford
8100      8108          Tim Casey, Bill Rante,
                        Jeremy Spirkoff/Ford



 Top 10 Overal Three Laps Finishers:


Class
Finish Veh. # Class Position Drivers
1      76     1400 1 Jesse Jones, Joe Weining
2      96     1400 2 Bobby Baldwin, BJ Baldwin,
                   Chad Ragland, Steve Covey
3      49     1400 3 Troy Herbst, Tim Herbst,
                   Larry Roeseler,
                   T. Gorsuch
4      6      1400 4 Steve Sourapas, Rick Geiser,
                   David Haris, Eric Waite
5      1559   1500 1 Steven Appleton, John Armas
6      1531   1500 2 Adam Pfankuch, Ron Weddle,
                   Richard Kern, Rick St. John
7      1549   1500 3 Sam Berri
8      1553   1500 4 Ray Griffith, Tod Grifffith,
                   Jason Brisco, Mike Hill
9      1577   1500 5 Justin Loftin, Bob Lofton,
                   Russell Szymanski
10     54     1400 4 Jesse James, Gerald King

Top 10 Overal Two Laps Finishers:
Class
Finish Veh. # Class Position Drivers
1      1735   1700 1 Jeff Coan, Jon Krellwitz,
                   Skyler Gambrell
2      7132   7100 1 Jayson Strchan, James Burman,
                   Ryan Upthegrove, Kyle Gervais
3      7140   7100 2 Blake Henn, Freddy Paris,
                   Tyle Henn, Dave Elliott
4      7110   7100 3 Don Beaumont, Alan Coffee,
                   Tyler Cofee
5      3701   3700 1 Tom Barnett, Bruce Kerstner,
                   Clive Skilton
6      1708   1700 2 Eric Helgeson, Michael Slater,
                   Rob Renken
7      1730   1700 3 Chris Wacker, Todd West,
                   Bret Young
8      1844   1800 1 Tim Hunt, Dave Schweickert,
                   Kenneth Farmer, Geon Hill
9      1799   1700 4 Bill Bunch, Tareck Karam,
                   Brandon Thompson
10     1756   1700 5 Barrie Thomson, Amber DeAngelis,
                   Bill Frey
   
National TV coverage is produced and broadcast by Lucas Oil Productions, with HD broadcasts on VERSUS and additional programming on MavTV network. Lucas had over ten cameras and twenty professionals at the race to proviode great coverage of the race; don't miss the broadcast. Check your local listings for broadcast times.
Best In The Desert official sponsors: Ford Motor Company – official truck, General Tire – official tire, Lucas Oil - Official Oil, VP Racing Fuels – official fuel, KC HiLiTES – official light, John Deere – official UTV, KTM – official motorcycle, FabTech – official suspension, Fall Advertising, Prerunner Maniac, Azunia Tequila, McKenzies, PCI Race Radios, and Sportsman Cycle Sales.
Next Best in the Desert race for the car and truck classes is the Bilek Racing Silver State "300", April 29-30, May 1, 2011.