&nbspDesertRacing.com > News Archives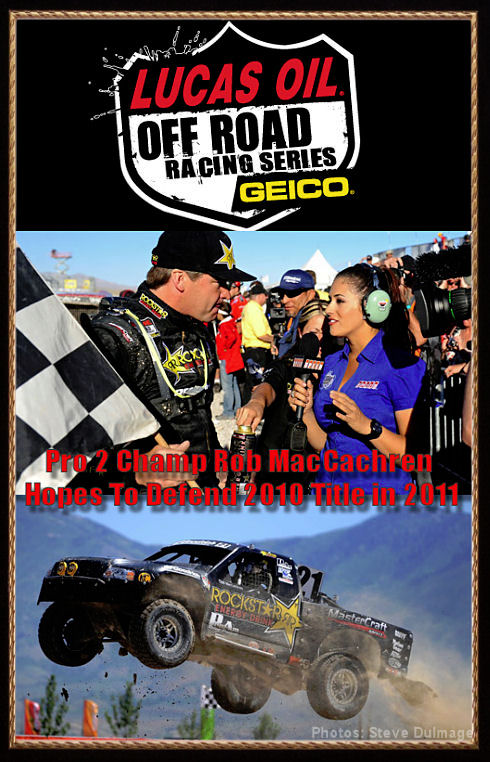 Pro 2 Champ Rob MacCachren
Hopes To Defend 2010 Title in 2011
CORONA, Calif. (March 17, 2011) - Rob MacCachren's name has become synonymous with off-road racing. He has raced off-road since the '80s, and has been a championship contender the entire time. In 2010, he won the Lucas Oil Off-Road Racing Series champion in the Pro 2 division. We caught up with him for a quick interview before the 2011 season starts this weekend in Arizona.
*Lucas Oil Series: As the defending Pro 2 champ in the Lucas Oil Off-Road Racing Series, what do you foresee as the biggest change coming for the 2011 season?
*Rob MacCachren: Well, I'm hoping things work out exactly the same way! We had a very successful year last year, winning nine of the races and leading the championship for most of the year, so I hope things don't change much at all. As a team, we just tried to refine the things that we felt needed a little work, and we've tested twice - at Glen Helen once and at Firebird, where we're racing this weekend - so we're really just trying to stay the same, stay consistent, and not change much. Now, on the other hand, being the champ and running the number-one plate, a lot of the other competitors are out to get us. We have a bull's-eye on us now. We're the ones to beat. People want to knock off the defending champion, and I wouldn't expect anything less. Lots of the teams are working harder and trying to make their teams more competitive, and there are tough competitors in the class: Carl Renezeder is always tough and will be again and we've gained Jeremy McGrath, who is a very talented driver and will be somebody to look out for. Todd Leduc moved to Pro 4, but we recently gained Brian Deegan in our class also... I haven't seen an entry list, but I know we've lost a few people and gained some, too.
*Lucas Oil Series: It seems like a lot of the fans like Pro 2 more than Pro 4...
*Rob MacCachren: I'd love to race every class there is in the Lucas series, but unfortunately (or fortunately) it's hard to find the money to do that. We would love to race both Pro 2 and Pro 4, but when we came back into the series, or when I did in 2007, I started racing Pro 2 and stuck with it. They're easier to maintain than a Pro 4, because they don't have front-wheel-drive on the truck, and I think that you have to have more finesse driving them because they want to spin out on you a lot easier, and they have way more horsepower than they do traction. You have to make sure the tire gets hooked to the ground. I think a lot of people love seeing the Pro 2 guys race; I've heard people say it's like ballet in the corners with two side-by-side and they're both sliding sideways together, door-to-door, but the Pro 4 trucks don't work like that. I've raced both, and I love both, but right now we're good with Pro 2. We'd love to be in Pro 4 also, but those cards haven't played out yet.
Lucas Oil Series: Would you consider Pro 2 more of a driver's championship, then?
Rob MacCachren: I think so. If you talk to Pro 4 guys, they feel they have better drivers, and if you talk to Pro 2 guys, they think they do, but I think Pro 2 has more of the better drivers in their class. I'd honestly love for them to just be one class, though...
Lucas Oil Series: Yeah, those would be some crazy racing lines!
Rob MacCachren: Yeah, it could be fun...
Lucas Oil Series: What is your goal for the opening weekend?
Rob MacCachren: Last year, at the first event of the year, we got two second-place finishes, but that momentum got us going. I'd love to get on the podium both days and hopefully win one, or even both, of the races this weekend, but it's just important to be up front somewhere. I think I was on the podium at all but one or two races in 2010, and I think we made it all the way to Utah before we missed a podium. The big thing is consistency, and we're hoping to be as consistent this year as we were last year. I'd love to win every race, but to be consistent, you have to make choices that might prevent you from winning the race sometimes.
About the Lucas Oil Off Road Racing Series:
The Lucas Oil Off Road Racing Series (LOORRS) is the evolution of the long standing support of short course racing by Forrest Lucas and Lucas Oil Products. Steeped in the Midwest tradition of short course off road racing infused with a West Coast influence, LORRS brings intense four wheel door to door action to challenging, fan friendly tracks. Lucas Oil Off Road Racing Series: This is Short Course.