&nbspDesertRacing.com > News Archives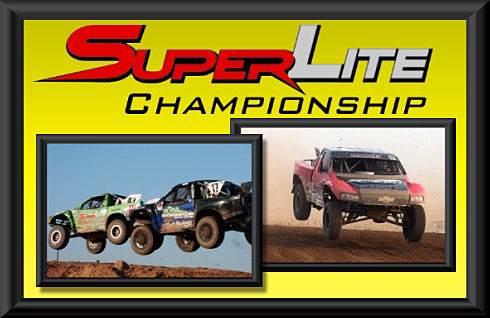 SuperLite Kicks Off High-Octane
Short Course Desert Racing Series at Firebird Raceway
X Games Stars & Talented Young Guns Vie for Championship Crown
RENO, NEV. — The adrenaline-fueled, fender-to-fender, off-road action of SuperLite racing returns to the Firebird International Raceway outside of Phoenix, as some of the biggest names in dirt racing kick off the 16-race schedule of the 2011 SuperLite Championship Series.
Fan favorites like X Games veteran Jeff "Ox" Kargola and 2010 runner-up Chad George will face off against a cast of young, talented drivers like Dawson Kirchner and CJ Greaves in a furious, short-course track that features tight corners, high-flying jumps and speed-friendly straight-aways.
Drivers will be revved up and ready for a fierce opening race at Firebird, each pushing for good positioning in the race standings heading into the hotly contested series. Last year's X Games gold medalist Jeremy "Twitch" Stenberg edged Chad George for the 2010 championship, followed by CJ Greaves in third. This year, racers will put the pedal to the floor at Firebird in an attempt to get a leg up on the ultra-competitive field of racers.
"Firebird is one of the most storied and demanding tracks in the SuperLite Championship Series," said general manager, Kevin Singleton, for the SuperLite Championship Series. "Our fans can count on a spectacular start to the 2011 series as a talented field of drivers fight to the finish in a no-holds-barred contest of horsepower, driving skill and high-stakes jockeying between metal machines."
The SuperLite Championship Series, part of the Lucas Oil Off-Road Racing Series, has been described as "motorcross racing on steroids" for the abundance of dirt jumps on the short-track courses that boost the high-horsepower trucks into the air as they race head-to-head.
Between 14 and 16 competitors take the track each race for a chance to take the checkered flag. Most are seasoned racers or up-and-coming stars, but the SuperLite Championship Series also offers a chance for new racers to break into the world of competitive, short-track racing with the "Arrive and Drive" program. For as little as $7,500 per race, "Arrive and Drive" customers are provided a race-ready SuperLite truck, a race support crew and the chance to face off with off-road racing stars in a nationally televised dirt track contest.
The SuperLite Championship Series will be broadcast across the nation on CBS and more details will arrive shortly.