&nbspDesertRacing.com > News Archives


[an error occurred while processing this directive]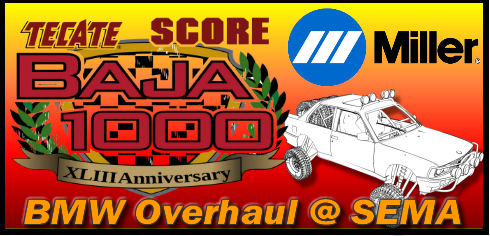 Miller to Host Rally Racer
Bill Caswell's BMW Overhaul at
SEMA 2010
Caswell to overhaul BMW in preparation for
SCORE Baja 1000
APPLETON, Wis. — October 26, 2010 — Miller Electric Mfg. Co. is pleased to announce that rally racer and ultimate DIY enthusiast Bill Caswell will join the company at the SEMA 2010 show in Las Vegas, Nev., to completely overhaul his signature, late-'80s BMW, transforming it into a Baja vehicle. Caswell will complete the transformation from Miller booth #23913 in the Racing and Performance pavilion, performing the necessary welds in just four days to prepare his car for the upcoming SCORE Baja 1000 on Nov. 17 – 21, in which he plans to compete.
"Bill's passion for racing combined with his desire to create fits nicely with our vision of empowering auto enthusiasts through the Power of Blue®," said Tim Swanson, vice president of marketing, Miller Electric Mfg. Co. "Rally and Baja racing requires a diverse skill set, from detailed fabrication and welding to high-speed driving. We're looking forward to watching Bill build and race the Miller car."
Formerly a finance banker from Chicago, Caswell left his job in 2009 to focus on rally racing, competing in several races in the U.S. in cars that he built, modified and fabricated himself. Caswell made a name for himself in March of this year by placing third in the Rally America class of Rally Mexico, an FIA-sanctioned event run concurrently with World Rally Championship in Corona, Mexico.
Racing alongside professional cars valued at $400,000 or more, Caswell (and co-driver Ben Slocum) competed in a 1991 BMW 318i that he bought off Craigslist for a mere $500, which he again modified and fabricated himself.
In November, Caswell will take a similar BMW to Mexico's Baja California Peninsula to compete in the Sportsman class of the five-day event.
"I grew up watching the Baja 1000 race, and actually running it has been a lifelong dream of mine," said Caswell. "Welding is probably the most critical part of prepping the car for a Baja race, and I'm excited to finish the car and get underway."
As part of the Baja 1000 BMW build, Caswell will fabricate the following components during the course of the SEMA trade show.
* Day One – Main Roll Cage
* Day Two – Front Cage and Suspension
* Day Three – Rear Cage and Suspension
* Day Four – Accessories including complete main cage structure, front brush guard, fuel cell, light bar, safety gear and exhaust.
To see more of Caswell's story, and to catch live reports and updates from the show, please visit MillerWelds.com/SEMA.
You can also learn more about Bill Caswell at http://www.caswellmotorsport.com .
# # #
About Miller
Miller Electric Mfg. Co., headquartered in Appleton, Wis., is a leading worldwide manufacturer of Miller brand arc welding equipment and is a wholly owned subsidiary of Illinois Tool Works Inc. (NYSE: ITW).
For more information, visit Miller's Web site at www.MillerWelds.com , call 1-800-4-A-Miller (800-426-4553), fax 877-327-8132, or write to Miller Electric Mfg. Co., P.O. Box 100, Lithonia, GA 30058.