&nbspDesertRacing.com > News Archives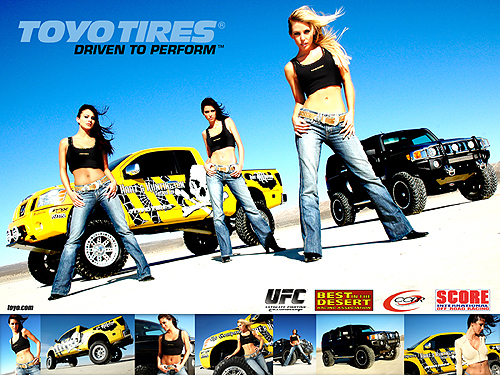 Team ToyoT Off-Road Drivers Garnered Several Podium Finishes
During First Race Weekend of the 2007 CORR Championship Season
LANCASTER, CALIFORNIA - Team Toyo Off-Road drivers scored podium finishes in Pro 4T, Pro 2T and Pro-LiteT races during this past weekend at the Championship Off-Road RacingT season opener at Antelope Valley Fairgrounds in Lancaster, California. Drivers competing on Toyo Open Country M/TT tires included Robby Gordon; Curt, Todd and Kyle LeDuc; Josh Baldwin, Ricky Johnson and Rick Huseman.
Kyle LeDuc led the charge for the weekend by scoring double podium finishes in Pro-Lite driving his ROCKSTAR / Toyo Tires Ford Ranger. The young LeDuc finished in Third Place during Saturday's Round 1, and then defeated the field of trucks by winning Round 2. This places Kyle LeDuc as an early contender for the CORR Pro-Lite championship. Brother, Todd LeDuc, drove his full-size ROCKSTAR / Toyo Tires Ford to a Third Place finish in Pro 2 on Saturday to continue his front-running form displayed during the 2006 championship season.
The newly signed team of Baldwin Racing displayed its championship-winning potential during Sunday's races. Ricky Johnson piloted his Pro 2 KMC / Sway-A-Way / Toyo Tires Ford truck to a Second Place finish during the Jason Baldwin Memorial Cup Championship race. Johnson also placed third that same day during the 15-lap Pro 2 Division race. Teammate, Josh Baldwin, powered his KMC / Sway-A-Way /Toyo Tires Ford truck to Second Place in the thundering Pro 4 Division. Also driving a Toyo Tires-equipped Pro 2 Ford race truck on Sunday was Robby Gordon, winner of the 2006 Baja 1000. Gordon competed in a NASCARR race the previous day in Phoenix, and then borrowed a truck from Baldwin Racing for the day's races. His hard charging style was a fan favorite, putting him at the front of the pack until he had to drop out due to equipment failure.
According to Stan Chen, manager of events and motorsports, Toyo Tire (U.S.A.) Corporation, "Team Toyo Off-Road drivers had a great weekend overall to begin the 2007 CORR championship season. We congratulate Kyle LeDuc on his Sunday victory. This weekend was also the first time Baldwin Racing has competed on Toyo Open Country M/T tires and their results prove their winning potential."
To learn more about Toyo products and Team Toyo Off-Road drivers, log on to teamtoyo.com. CORR races will be broadcast nationally in 2007 on NBC with a one-week delay. Check your local television listings for broadcast times.