&nbspDesertRacing.com > News Archives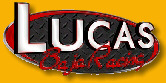 Castrol Team Approaches Second Race of the Season
The Lucas Baja Racing team returns to action April 27-29 in Pahrump, Nevada for the Terrible's Town "250" as part of the Best in the Desert Series. The Castrol team enters its' Trophy Truck into their second race of the season.
Rick Johnson and Chris Lucas will be driving for the team, with Johnson beginning the race and Lucas handling the truck in the second half. Johnson will be accompanied by co-driver Rob Reinerston and Eric Place will ride alongside Lucas.
Most recently Reinerston has driven the Castrol Pro Truck for the last two races. He brings 12 years of driving into the truck. His perspective due to his normal role as a driver makes him an invaluable asset for the team.
"Having a driver with Rob's experience next to me in the truck brings another set of eyes that really understands what is going on during every facet of the race," said Johnson. Despite never driving in the Trophy Truck series (often considered the highest level of Off-Road Racing), Reinerston has raced in the Terrible's Town "250" six different times, including 1998 when he won the race in the Stock Mini-Truck series. He is relishing his first experience in a Trophy Truck race.
"I am really excited because you need to get seat time in the Trophy Trucks before you can drive them," commented Reinerston. "I see this as a last step before moving up to Trophy Trucks."
The jump from Pro Trucks to Trophy Trucks can be quite a dramatic change.
"You really need to get the feel for it because it has so much more speed and power," said Reinerston. "A Trophy Truck is like a Pro Truck on steroids."
Massive amounts of testing for this race have taken place in Barstow, California. The Terrible's Town "250" is a fast race with more flat terrain than most races. Barstow has a diverse variety of desert terrain, which makes it ideal for preparation throughout the season for the Castrol team. With so much testing taking place, the team feels the truck has dramatically improved since the first action it saw in February.
"The truck has gotten a lot better as a result of what we learned from the first race and the adjustments we have made since," Lucas pointed out. "It is certainly more manageable, which inevitably leads to a faster truck."
Lucas Baja Racing opened the season with the Parker "425," and after the upcoming race the team will participate in the Baja 500. The Castrol team plans to participate in seven races this season. The Outdoor Channel is covering the Terrible's Town "250," and will air the race on both June 8 and August 31.