&nbspDesertRacing.com > News Archives


[an error occurred while processing this directive]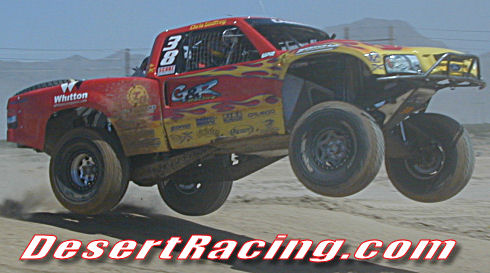 Defeats field of 183 starters
Cadiente roars to Overall and SCORE Trophy-Truck victory;
Roeseler/Herbst top Class 1 at SCORE Terrible's Primm 300
Boyer, Batulis, Harrold, Severson, Herrera Jr. also class winners
At Round 5 of the six-race 2007 SCORE Desert Series
PRIMM, Nev.—Driving with power, consistency and finesse, Arizona's Garron Cadiente deftly manuevered his No.38 G&R Racing Ford F-150 race truck to the overall and SCORE Trophy-Truck victory Saturday at the 12th Annual SCORE Terrible' s Primm 300 desert race. In earning his second career SCORE Trophy-Truck race win, Cadiente, the 2006 SCORE Rookie of the Year, covered the rugged 288-mile race in four hours, 56 minutes and 34 seconds, averaging a ground-pounding 58.27 miles per hour while covering the four laps over the rugged 72-mile desert race course.
Starting midway in the star-studded field of 27 starters in SCORE Trophy-Truck, Cadiente was second physically on the course after one lap, but already had the overall lead in the race for good. His consistency netted laps of 1:13:48, 1:13:46, 1:15:16 and he capped off his sterling performance with a 1:13:44, the fastest lap run by any vehicle in the race.
SCORE Trophy-Trucks, the marquee SCORE racing division swept the podium as the team of Mark Post, San Juan Capistrano, Calif./Rob MacCachren, Las Vegas was second in a time of 5:00:42 in the No. 3 Riviera Racing Ford F-150 while third overall was Las Vegas' B.J. Baldwin with a time of 5:01:58 in his No. 1 Baldwin Motorsports Chevy Silverado.
"Man, what a race…it was crazy out there," said Cadiente, whose first win in the class for 800-horsepower, high-tech, unlimited production trucks was last year's Tecate SCORE San Felipe 250. "We just didn't let up the whole time. I have to thank BF Goodrich Tires for what they do for us, their tires and amazing. We didn't have a crowd out there all day, there was no one following us, but you couldn't relax. There are so many guys that go so fast, so many good trucks. It was just a great day for us. Definitely, you have to just keep tabs on everybody behind you but sometimes that's tough. We were right in the middle at the start. Everybody was going fast today and I think we just did it a little bit better than everybody else. We're real excited about this and this was a race we really wanted to win."
The overall win by a SCORE Trophy-Truck marked the eighth time and fifth straight year that the class has beaten the unlimited class 1 open wheelers in the 12-year history of the popular Southern Nevada desert race. SCORE's 34th anniversary season continued with 82 survivors out of 183 starters, competed in 18 Pro and 2 Sportsman classes for cars and trucks finishing within the seven-hour time limit in the elapsed-time race.
Round 5 of the six-race 2007 SCORE Desert Series, the world's foremost desert racing series, featured racers from 16 States and four countries racing on a typically rugged Southern Nevada race course under brilliantly sunny skies with a light westerly wind keep temperatures near fall-like in the low 90s. In the tightly contested season point battle in SCORE Trophy-Truck, the Post/MacCachren team took over the lead by a slim one point over B.J. Baldwin, the reigning SCORE Trophy-Truck season point champion.
Finishing fourth overall and beating a race-high field of 37 starters the unlimited Class 1 was the team of Larry Roeseler, Hesperia, Calif./Troy Herbst, Las Vegas in a time of 5:08:41 in the No. 100 Terrible Herbst Motorsports Smithbuilt-Ford. It was the 23rd Class 1 race win for the magnificent machine since it debuted in 1997.
Todd Wyllie, New River, Ariz., had a solid fifth overall finish and was fourth in SCORE Trophy-Truck with a time of 5:09:14 in the No. 85 Wyllie Racing Chevy Silverado.
Fifth in SCORE Trophy-Truck and sixth overall was Las Vegas brothers Tim and Ed Herbst in a time of 5:17:27 in the No. 19 Terrible Herbst Motorsports Ford F-150.
For the sixth consecutive year, the race was split into two groups with the slower classes running in the morning. The truck classes, including the featured SCORE Trophy-Truck division along with the unlimited Class 1 open-wheel class, raced in the afternoon.
Hard-charging Chris Harrold's VW-powered AlumiCraft open-wheel desert race car was the fastest during the morning section of the race, winning Class 10 in 5:37:24, which was also 11th overall in the race. Harrold was eighth out of 15 starters after the first lap, moved up to fifth after two laps, slipped to ninth after three laps before bursting out with a final lap of 1:19:45. It was the fastest lap of the day in his class.
Winning the Primm race for the fifth time in six years were brothers Donald Moss, Sacramento, Calif., and Ken Moss, Marysville, Calif., in their sturdy Ford Bronco.
Mexico's Eric Solorzano increased his lead even further as the winningest racer in the event, claiming Class 11 in his stock VW sedan for the eighth time in the 12-year history of the popular race.
Legendary venerable veteran Rod Hall of Reno, Nev., the only driver who has raced in all 39 Tecate SCORE Baja 1000 races (with a record 18 class wins), won Stock Mini in a Hummer H3 for the second straight year.
Other class winners included Kevin Carr, San Diego (Class 5, VW Baja Bug), Rulo Solano, Pomona, Calif. (Class 5/1600, VW Baja Bug), Victor Herrera Jr., Menifee, Calif./Victor Herrera Sr., Tijuana, Mex (Class 7, Ford Ranger), Rich Severson, Mesa, Ariz. (Class 7SX, Ford Ranger), John Griffin, Mission Viejo, Calif./Jeremy Spirkoff, El Cajon, Calif. (Stock Full, Ford F-350) and Glenn Greer, Green Valley, Ariz. (Class 8, Dodge Ram 1500). It was the third win in this race for both Herrera Jr. and Griffin.
The stage is now set for the season-ending 40th anniversary of the legendary Tecate SCORE Baja 1000 desert race to be held November 10-16 in Baja California, Mexico. The celebratory peninsula run will include pre-race festivities in Tijuana and Ensenada and will start in Ensenada and finish approximately 1,300 miles later in Cabo San Lucas on the southernmost tip of the majestic and mysterious peninsula.
The 2007 SCORE Desert Series also includes the chase for the $75,000 Kartek Off-Road contingency bonus to be awarded to several 2007 SCORE Class point champions along with the run for the $12,000 Toyota True Grit and Toyota Milestone Awards.
Current SCORE official annual sponsors are: BFGoodrich Tires-official tire, Sunoco Race Fuels/Bryant Petroleum-official fuel supplier, Bilstein-official shock, Volkswagen-official vehicle, Instant Mexico Auto Insurance-official Mexican auto insurance, American Racing ATX Series-official wheel, Slime-official tire sealant, Airstar America-official space lighting provider, Red Bull--official energy drink and Bosch Power Tools-official power tool. Associate sponsors are: Tecate Beer, Coca-Cola of Mexico, Las Vegas Events, Terrible Herbst Inc., Blue C Enthusiast Advertising, Kartek Off-Road, Fram, Autolite, Prestone, Bendix, American Suzuki, NAPA Chassis, SignPros, P.C.I. Race Radios, McKenzie's Performance Products and Advanced Color Graphics.
Co-title sponsors for the 12th SCORE Terrible's Primm 300 are Las Vegas Events and Terrible Herbst Inc.
SCORE Terrible's Primm 300
Round 5 of six-race 2007 SCORE Desert Series
Saturday, Sept. 8, 2007, at Primm, Nev.
Total Distance – 288 miles (4 laps, 72-mile course)
TOP OVERALL FINISHERS
1. Garron Cadiente, Mesa, Ariz., Ford F-150 (SCORE Trophy-Truck) 4 hours, 56 minutes, 24 seconds (58.27 miles per hour)
2. Mark Post, San Juan Capistrano, Calif./Rob MacCachren, Las Vegas, Ford F-150 (SCORE Trophy-Truck) 5:00:42 (57.465 mph)
3. B.J. Baldwin, Las Vegas, Chevy Silverado (SCORE Trophy-Truck) 5:01:58 (57.225 mph)
4. Larry Roeseler, Hesperia, Calif./Troy Herbst, Las Vegas, Smithbuilt-Ford (Class 1) 5:08:41 (55.99 mph)
5. Todd Wyllie, New River, Ariz., Chevy Silverado (SCORE Trophy-Truck) 5:09:14 (55.88 mph)
6. Tim Herbst/Ed Herbst, Las Vegas, Ford F-150 (SCORE Trophy-Truck) 5:17:27 (54.43 mph)
7. Chris Robinson/Michael Robinson, Riverside, Calif., Chevy Silverado (SCORE Trophy-Truck) 5:17:46 (54.38 mph)
8. Harley Letner/Kory Halopoff, Orange, Calif., Tatum-Chevy (Class 1) 5:23:07 (53.48 mph)
9. Eric Chase/Stuart Chase, Burbank, Calif., Penhall-Chevy (Class 1) 5:26:13 (52.97 mph)
10. Armin Schwarz/Matthias Kahle, Germany/Martin Christensen, Escondido, Calif., Jimco-BMW (Class 1) 5:27:54 (52.70 mph)
11. Chris Harrold, Chula Vista, Calif., AlumiCraft-Honda (Class 10) 5:37:24 (51.22 mph)
12. Ronny Wilson, Long Beach, Calif./Randy Wilson, Lakewood, Calif., Jimco-Chevy (Class 1) 5:37:26 (51.23 mph)
13. Enrique Bujanda, Socorro, Texas/Hector Trillo, Canutillo, Texas, Porter-Chevy (Class 1) 5:40:21 (50.77 mph)
14. Bobby Baldwin, Las Vegas, Chevy Silverado (SCORE Trophy-Truck) 5:40:38 (50.73 mph)
15. Todd Cuffaro, Coronado, Calif./Vic Bruckmann, Lemon Grove, Calif., Porter-Chevy (Class 1) 5:41:11 (50.65 mph)
16. Richard Boyle, Ridgecrest, Calif./Ron Brant, Oak Hills, Calif., Jimco-Chevy (Class 1) 5:41:16 (50.64 mph)
17. John Harrah, Reno, Nev./Mark Levrett, Sparks, Nev., Jimco-Chevy (Class 1) 5:44:22 (50.18 mph)
18. Robert McBeath, Las Vegas, Jimco-Honda (Class 10) 5:46:11 (49.92 mph)
19. Pat Dean, Las Vegas, Bunderson-Chevy (Class 1) 5:48:35 (49:57 mph)
20. Larry Job/Rob MacCachren, Las Vegas, Jimco-Honda (Class 10) 5:56:12 (48.51 mph)
21. Daniel Wingerning, Redondo Beach, Calif./Bill Wingerning, Rolling Hills Estates, Calif., Jimco-Chevy (Class 1) 5:56:41 (48.45 mph)
22. Jason Batulis, Tustin, Calif./Cameron Brewer, Laguna Nigel, Calif., Prep By Jake-VW (SCORE Lite) 6:00:04 (47.99 mph)
23. Billy Gasper, Chino Hills, Calif./Dave Gasper, Santa Barbara, Calif., Porter-Chevy (Class 1) 6:03:33 (47.53 mph)
24. Adam Wik/Bekki Wik, Las Vegas, Jimco-Honda (Class 10) 6:06:58 (47.09 mph)
25. Justin Lofton, Westmorland, Calif., Jimco-Chevy (Class 1) 6:08:13 (46.93 mph)
26. Dan Myers, Costa Mesa, Calif./Casey Currie, Anaheim, Calif., Porter-Chevy (Class 1) 6:08:57 (46.84 mph)
26. Cory Boyer, Bakersfield, Calif./Fernie Padilla, Las Vegas, Lothringer-VW (Class 1-2/1600) 6:08:57 (46.84 mph)
28. Aaron Hawley, Las Vegas/Brian Burgess, Riverside, Calif., Seagrove-VW, 6:10:21 (46.66 mph)
29. Gary Weyhrich/Mark Weyhrich, Troutdale, Ore., Jimco-Chevy (Class 1) 6:10:30 (46.64 mph)
30. Ty Godde, Palmdale, Calif./Robert Ross, Chula Vista, Calif./Jim Greenway, Ojai, Calif., Fusion (SCORE Lite) 6:10:30 (46.64 mph)
SCORE Las Vegas Primm 300
All-Time Overall Winners
1996--Robby Gordon, Orange, Calif., Ford F-150 (SCORE Trophy-Truck)
1997--Curt LeDuc, Cherry Valley, Calif., Jeep Grand Cherokee (SCORE Trophy-Truck)
1998--Ed and Tim Herbst, Las Vegas, Ford F-150 (SCORE Trophy-Truck)
1999--Troy Herbst, Las Vegas, Smithbuilt-Ford (Class 1)
2000--Steve Sourapas, Rancho Santa Fe, Calif., Jimco-Chevy (Class 1)
2001--Troy Herbst, Las Vegas, Smithbuilt-Ford (Class 1)
2002--Mike Julson, Santee, Calif./Bob Lofton, Westmorland, Calif., Jimco-Chevy (Class 1)
2003--Tim Herbst/Ed Herbst, Las Vegas, Ford F-150 (SCORE Trophy-Truck)
2004--Alan Pflueger, Honolulu, Chevy Silverado (SCORE Trophy-Truck)
2005--Brian Collins, Las Vegas/Larry Ragland, Cave Creek, Ariz., Chevy Silverado (SCORE Trophy-Truck)
2006—Bob Shepard, Phoenix, Chevy CK1500 (SCORE Trophy-Truck)
2007—Garron Cadiente, Mesa, Ariz., Ford F-150 (SCORE Trophy-Truck)