&nbspDesertRacing.com > News Archives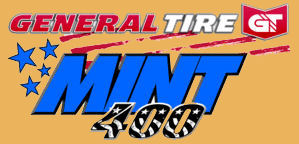 General Tire Named Title Sponsor
of the New Mint 400 Desert Race
General Tire will be the title sponsor of the new General Tire Mint 400 Race when the classic desert contest returns on March 29, 2008.
Originally created in 1969, the "Del Webb Mint 400 Desert Rally" as the first race was known, ran between the Mint Hotel & Casino in downtown Las Vegas, and its sister hotel, The Sahara Tahoe. It was then dubbed "The Great American Desert Race" and was a demanding 400-mile course, with a lucrative purse, and over the years it attracted not only the best drivers in off-road racing, but also a number of celebrities. Then in 1988, the Mint was sold and the historic race disappeared, ironically this is the same year General Tire exited out of off-road racing – until today. SNORE (Southern Nevada Off-Road Enthusiasts), a solely all volunteer organization, has acquired the rights to the Mint 400 and is the sanctioning body hosting the event. The new General Tire Mint 400 will take off from the El Cortez Hotel & Casino and wind through an arduous 95-mile lap course to the finish line some 16 hours later.
"Sponsoring this historic race is the centerpiece of General Tire's Invasion into Off-Road," said Travis Roffler, director of marketing, General Tire. "This is the perfect venue to put our new Grabber® off-road competition tires to the test, and we're sure that this is just the first of many more years of desert racing in Southern Nevada under the Mint 400 name."
General Tire has 'unleashed the fury' in off-road competitive performance with its Grabber competition tires as General Tire powers into the 2008 off-road racing season.
Designed with a tough, three-ply Duragen™-reinforced body construction to stand up to the rigors of off-road conditions, the Grabber also features a newly-developed competition-specific tread compound. General Tire offers two distinct tread designs for different types of competitive conditions. In addition, the Grabber name and General Tire logo are prominently featured on the sidewall in red and white letters. The Grabber competition tires are designed in size 37x 12.50R17 for class 1, 7S, 7 unlimited, 8 and trophy truck.
For additional media information, visit www.ctnamedia.com.
General Tire is part of Continental Tire North America, Inc. (www.generaltire.com). CTNA, based in Charlotte, North Carolina, is a company of Germany-based Continental AG. With targeted annual sales of more than €26.4 billion ($40 billion US) for 2008, the Continental Corporation is one of the top automotive suppliers worldwide. As a supplier of brake systems, systems and components for the powertrain and chassis, instrumentation, infotainment solutions, vehicle electronics, tires and technical elastomers, the corporation contributes towards enhanced driving safety and protection of the global climate. Continental is also a competent partner in networked automobile communication. Today, the corporation employs approximately 150,000 people at nearly 200 locations in 36 countries.