&nbspDesertRacing.com > News Archives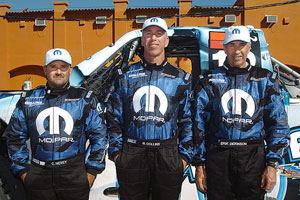 Team Mopar® Driver Chuck Hovey
Pursues Second Straight Win for
Collins Motorsports at SNORE Mint 400 Event
Center Line, Mich. — Team Mopar® driver Chuck Hovey recalls watching the SNORE Mint 400 as a spectator. After a long hiatus, the "Great American Desert Race" returns on March 27–29, with Hovey behind the wheel of the No. 12 Mopar Dodge Ram 1500.
Hovey hunts for a second straight visit to the winner's circle for Mopar and Collins Motorsports in the Mopar Dodge Ram, following Brian Collins' dominating win on March 15 at the 22nd Annual Tecate SCORE San Felipe 250. Collins captured overall and Trophy Truck wins, and earned the first SCORE victory for a Mopar-powered Dodge truck since 1979. The win came in just the third event since Mopar made its return to off-road racing.
"I actually watched the last Mint race back in 1994, I think it was," recalled Hovey, who will lead Collins Motorsports into the Southern Nevada Off-Road Enthusiasts (SNORE) Mint 400. "My dad and I sat on the course and watched every one go by. We were actually running in some smaller series and smaller classes [at the time]. I never really thought I would get to this level. It's kind of neat to be able to come back to this race in a factory Mopar Dodge Ram truck with a team like Collins Motorsports. It's very special."
Hovey will steer the Mopar Dodge Ram for at least the first three laps of the SNORE Mint 400. Collins may handle driving duties on the fourth and final lap.
The Escondido, Calif. native and seven-time winner of the Superstition series knows the bar has been set high.
"It was really great watching Brian [at San Felipe]," remarked Hovey. "He was just having a spectacular day. I was up in the chopper and I got to watch him work. He just did an amazing job, and hopefully I can duplicate that. It's going to be a tough act to follow, but I'm going to give it my best shot. And that Mopar truck is awesome. It runs so good. Just to have the backing and to drive a vehicle like that—I'm so excited."
"All of us at Mopar were overjoyed to hear the news of Brian's commanding win at the SCORE San Felipe 250," said Rob Richard, Director of Mopar Parts, Sales and Service Marketing, Chrysler LLC. "The victory was an authentic testament to the durability and reliability of Mopar Performance Parts for Jeep® vehicles and Dodge trucks. We look forward to rooting on Chuck at the Mint 400 as he attempts to bring home another win with Mopar power."
Collins Motorsports team manager Robbie Goerke says the Mopar Dodge Ram is 'ready to go racing' as SNORE Mint 400 nears Brian Collins logged 232 miles over rough and rugged terrain to take his victory at the Tecate SCORE San Felipe 250. After off-roading in such harsh conditions, some might assume the Mopar Dodge Ram would require a lot of mechanical attention. According to Robbie Goerke, team manager and co-owner of Collins Motorsports, that wasn't the case.
"We got back Monday and pulled the truck apart, and everything looked great," said Goerke. "The ring and pinion, the transmission, the engine — the whole truck looked liked it was ready to go racing again. We decided to go ahead and pull everything apart and prep everything before we go to the Mint, because we want to ensure that Chuck Hovey has a good day."
Goerke is familiar with the legend of the Mint 400, which attracted many celebrity competitors in its heyday. It was also chronicled by Hunter S. Thompson in his 1971 groundbreaking book, Fear and Loathing in Las Vegas.
"We all grew up around the Mint 400. Everybody would call in sick to school to go to the tech inspection and check it out," Goerke remembered. "It's always been a real competitive race, a really rough race. It's neat that it's back."
Information about the SNORE Mint 400
The Mint 400 was created in 1968 by Norm Johnson, public relations director for the Mint Hotel in Las Vegas. The event attracted celebrity competitors such as James Garner, Lee Majors and astronaut Gordon Cooper. In 1975, it attracted 354 cars and 51 bikes with a guaranteed purse of $100,000.
The return of the SNORE Mint 400 will feature four laps over a 95-mile course, with the start/finish line staged near Jean, Nev. The SNORE Mint 400 Fan Fest will take place on Fremont Street in Las Vegas on Thursday March 27. A fun run will take place on Friday, March 28, with the white flag for the SNORE Mint 400 scheduled to drop on Saturday, March 29.
70 Years of Mopar
When Chrysler bought Dodge in 1928, the need for a dedicated parts manufacturer, supplier and distribution system to support the growing enterprise led to the formation of the Chrysler Motor Parts Corporation (CMPC) in 1929.
Originally used in the 1920s, Mopar (a simple contraction of the words MOtor and PARts) was trademarked for a line of antifreeze products in 1937. It was also widely used as a moniker for the CMPC. The Mopar brand made its mark in the 1960s – the muscle car era. The Chrysler Corporation built race-ready Dodge and Plymouth "package cars" equipped with special high-performance parts. Mopar carried a line of "Special Parts" for super stock drag racers and developed its racing parts division called Mopar Performance Parts to enhance speed and handling for both road and racing use.
Today, Chrysler LLC's Global Service & Parts division is responsible for the manufacturing and distribution of nearly 250,000 authentic Mopar replacement parts, components and accessories for Chrysler, Jeep and Dodge vehicles sold around the world. To assure quality, reliability and durability, all Mopar parts and accessories are designed in strict adherence to Chrysler Engineering standards.