&nbspDesertRacing.com > News Archives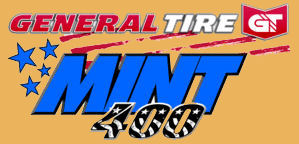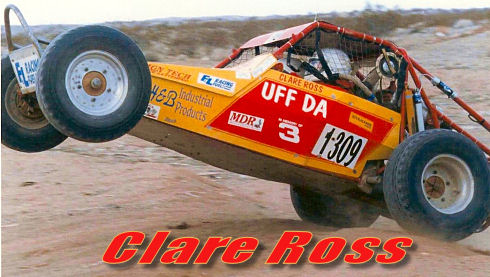 Racing Norwegian Grandmas
Team up in Class 15 at
SNORE Mint 400 Desert Race
A pair of racing Norwegian grandmas will be first off the line for Class 15 when the Mint 400 off-road race is staged south of Las Vegas Saturday, March 29.
Clare Ross and Sue Shannon, long-time friends from Southern California, will pilot their Class 15 unlimited two-seat buggy for about 50 miles before surrendering the driving duties to family members and friends. They ran their first race together in the 1990s in an off-road entry with the No. 1309.
Mrs. Ross, 71, has four children, nine grandchildren, and three great grandchildren, while Shannon, 60, has three children, and six grandchildren. As evidenced by their participation in the Mint 400 off-road race, neither of them are interested in slowing down any either. Running a vehicle wearing the Norwegian war cry of "Uff Da," they are on the run having the times of their lives.
The Ross and Shannon families met years ago when they were both members of First Association of Independent Racers (FAIR), which is a group of racers that have banded together for pit support. Since then, there have been enough stories generated to fill volumes.
While Ross and Shannon will be running the Mint 400 for the first time, the car was piloted by Martin Gill in the 1982 Mint 400. The pair has run 400-mile races before, but the revival of the Mint 400 is special.
"I am really looking forward to this," said Mrs. Ross. "I was really surprised at the turnout for the drawing. Everyone seems thrilled that a little bit of history is coming back."
The Mint 400 was conducted for 20 years before ending in 1988 when the Mint Hotel was sold. The original race was run near the old Mint Gun Club in the northwest valley of Las Vegas, while its last years were spent starting and ending on what is now Las Vegas Motor Speedway.
And by including the colorful tech inspection on Fremont Street East, the allure and excitement of the event has been brought back by the Southern Nevada Off-Road Enthusiasts (SNORE), a dedicated group of off-roaders that was involved in the original Mint 400 decades ago.
Ross and Shannon are part of a group called Dirt Mob, a colorful collection of friends and family members who race together and share stories that can only be treasured through motor sports.
"Off road racing is very addictive," Mrs. Ross says. "When we were raising our kids, we were into boating. The first race I ever saw was the old Parker 400 when it was started at Blue Water Marina. I asked my husband what in the world these guys were doing in off-road cars. I said they were absolutely crazy.
That was back in the '80s. "Well, guess what. Look at us now." The Ross family started in sports cars in 1957.
"I guess that's just proof that the family that races together stays together," Mrs. Ross says. The Mint 400 will kick off with tech inspection and registration on Fremont Street East March 27-28. The race will be run over 96-mile laps south of Las Vegas beginning at 7 a.m. March 29. The awards banquet has been scheduled March 30 at Whiskey Pete's beginning at 10 a.m. Further information may be obtained at www.snoreracing.net or at www.themint400.com
RACING GRANDMAS: Southern California grandmothers Clare Ross and Sue Shannon will start the Mint 400 in their Class 15 entry. They drew the No. 1 spot for the Mint 400, which will be run south of Las Vegas Saturday, March 29.