&nbspDesertRacing.com > News Archives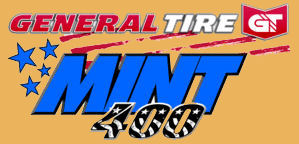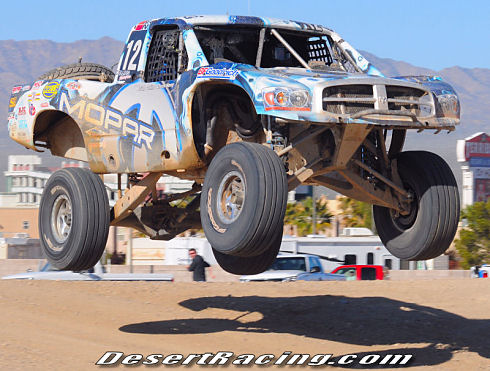 Collins Motorsports and Team Mopar®
Double Up with SNORE Mint 400 Triumph
Center Line, Mich. — Chuck Hovey and Brian Collins teamed up to drive the No. 12 Collins Motorsports Mopar Dodge Ram 1500 to the Unlimited Class and overall win at the SNORE Mint 400 near Jean, Nev., on Saturday, Mar. 29. The victory was the second straight overall win for the Mopar Dodge Ram following Collins' solo triumph at the SCORE San Felipe 250 on Mar. 15.
Hovey piloted the No. 12 Mopar Dodge Ram for the first three of four 95-mile laps, taking the lead on the third mile and handing off a 15 minute lead to teammate Collins on the fourth and final lap. The team needed every bit of that cushion, as a cut tire 15 miles from the finish imperiled an otherwise perfect outing. Collins Motorsports co-rider Erik Dickinson came through under pressure, rapidly changing the flat and sending the team to the winner's circle at the first running of the famed Mint 400 in twenty years.
"I thought this was a race in which I would never have the chance to win a trophy," said Collins. "To have it return twenty years later and to win it in the Mopar Dodge is just phenomenal."
"I can't even begin to describe what I'm feeling," said the joyous Hovey, a newcomer to the Collins team. "To get to this level and then to win, it's just amazing. It was a great day. Everything clicked."
The Team Mopar Collins Motorsports crew will attempt to maintain their win streak at the Tecate SCORE Baja 500, scheduled for May 30 – June 1 .
70 Years of Mopar
When Chrysler bought Dodge in 1928, the need for a dedicated parts manufacturer, supplier and distribution system to support the growing enterprise led to the formation of the Chrysler Motor Parts Corporation (CMPC) in 1929.
Originally used in the 1920s, Mopar (a simple contraction of the words MOtor and PARts) was trademarked for a line of antifreeze products in 1937. It was also widely used as a moniker for the CMPC. The Mopar brand made its mark in the 1960s – the muscle car era. The Chrysler Corporation built race-ready Dodge and Plymouth "package cars" equipped with special high-performance parts. Mopar carried a line of "Special Parts" for super stock drag racers and developed its racing parts division called Mopar Performance Parts to enhance speed and handling for both road and racing use.
Today, Chrysler LLC's Global Service & Parts division is responsible for the manufacturing and distribution of nearly 250,000 authentic Mopar replacement parts, components and accessories for Chrysler, Jeep and Dodge vehicles sold around the world. To assure quality, reliability and durability, all Mopar parts and accessories are designed in strict adherence to Chrysler Engineering standards.