&nbspDesertRacing.com > News Archives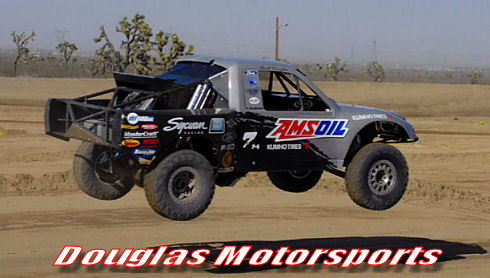 Douglas Motorsports Looking to
Add PRO-4 Championship Title to Resume
(El Cajon, CA) April 10, 2008 - Scott Douglas and his Douglas Motorsports team are looking to bring the PRO-4 Championship home to El Cajon. Almost immediately after the #7 AMSOIL Kumho Tire Sycuan Casino KC Hilites Ford F-150 won the final CORR race of 2007, team engineer, Bill Smith was finalizing plans for a completely new Douglas Motorsports chassis for the 2008 season.
By March, chief mechanic, Jason Schampers, was putting on the finishing touches on the new race truck. "Scott really emphasized he wanted to get the new truck completed well before the start of the season," commented Schampers. "We wanted get to the test track and use our current race truck as a base line to determine the performance of the new truck."
After the first test session, the new truck was noticeably quicker, especially in the rougher portions of the track. "Bill Smith has been with me for three years," stated Douglas. "During that time he's been fine tuning someone else's chassis. Bill had some new ideas to improve handling, so I gave him the green light to design and build a new truck. We've had three test sessions, and I can safely say we have a very fast race truck."
The off season saw Douglas Motorsports sign multi-year marketing contracts keeping AMSOIL and Kumho Tire as the team's lead title sponsors. The continued support from Sycuan Casino, Ford Trucks, Alloy USA, Miller Electric, KC Hilites, Raceline along with the addition of Walker Evans Racing Wheels, makes Douglas Motorsports a leading contender for the 2008 CORR PRO-4 Championship.
The first rounds of racing for the 2008 CORR PRO-4 Championship, is April 26-27 at The Fairplex in Pomona, California. If you're coming to Pomona, get your tickets soon, in 2007 this event was a sellout. If you can't get to the track, you can catch the first round of racing live on SPEED, at 3:30pm eastern. Then Round Two will be broadcast on NBC Sports, May 25, at 1:30pm eastern.
During the race broadcasts don't forget to view the new AMSOIL commercials featuring AMSOIL Kumho Tire "Super Team" members Scott Douglas and PRO-2 driver, Mike Oberg.
About Douglas Motorsports
Scott Douglas has been an off-road competitor for over twenty five years. In that span, Douglas has driven everything from stock classes to the wild unlimited trucks, including SCORE trophy trucks and CORR Pro-4s. The result is no less than 79 career victories and 11 championships; a record few in off-road racing history can touch. Currently the team competes in the Championship Off Road Racing™ (CORR) PRO-4 division.
For more information visit: www.douglasmotorsports.com
About CORR
Championship Off Road Racing™ brings high action, four wheel motorsports including 2 wheel drive and 4 wheel drive trucks to the closed course off road arena. The 2008 Championship Off Road Racing's race season includes eight events at tracks located in Los Angeles, CA, San Diego, CA and Primm, NV.
For more information visit: www.corracing.com