&nbspDesertRacing.com > News Archives


[an error occurred while processing this directive]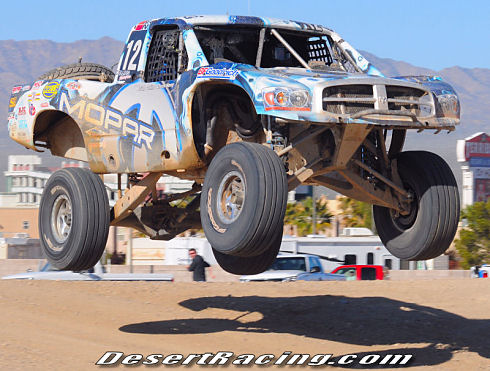 Team Mopar® Driver Brian Collins Goes for
Double Triple at 40th Tecate SCORE Baja 500

• Collins seeks third straight win of 2008 season for Team Mopar® at the Baja 500
• Modifications to the No. 12 Mopar Dodge Ram 1500 Trophy Truck will payoff in more victories
• 40th Annual Tecate SCORE Baja 500

Center Line, Mich. — Collins Motorsports No. 12 Mopar® Dodge Ram 1500 Trophy Truck driver Brian Collins will attempt to sustain two separate win streaks at the 40th Annual Tecate SCORE Baja 500 on May 29–June 1 in Ensenada, Mexico. Collins chases his third straight Mopar-powered win of the 2008 season as well as pursue a three-peat in the overall 4-Wheel vehicle class at the Baja 500.

In March, Collins scorched the competition with a solo run to win the Tecate SCORE San Felipe 250 and teamed with co-driver Chuck Hovey to notch a victory at the return of the historic SNORE Mint 400. The Collins Motorsports No. 12 Mopar Dodge Ram 1500 Trophy Truck dominated the competition at each race, taking overall and class triumphs in both. The San Felipe conquest was the first SCORE victory for a Mopar-powered Dodge truck since 1979. The win also came in just the third event since Mopar made its return to off-road racing.

Driving first in the Baja 500 will be Collins, with Hovey taking over for the final 140 miles. The No. 12 Mopar Dodge Ram 1500 is one of more than 300 entries in 27 Pro and six Sportsman classes for the event. The third of five events in the 2008 SCORE Desert Series, the Baja 500 features some of the world's most talented desert racers in non-stop action and attracts crowds in excess of 100,000.

Collins is approaching the Baja 500 with cautious optimism based on his hard-earned knowledge of just how tough a feat it is.

"To get the three-peat at the 500, that's what we are going out for," Collins remarked. "Coming off two overall wins and going for a third at the Baja 500, it's going to be hard work for the Collins Motorsports Mopar team. We're going to go out there and run it like we've run every race."

Added Collins on the team's impressive two-race win streak, "We've just been consistent, doing our work and doing our pre-running. We've done it for a lot of years, and we know how to prepare for a race. That's why we work so hard before the race, is so the races come easier. If that happens, you're there at the finish line."

Modifications to the No. 12 Mopar Dodge Ram 1500 Trophy Truck will payoff in more victories Also contributing to the team's back-to-back victories has been the modifications made to the No. 12 Mopar Dodge Ram 1500 by Collins and Kevin Kroyer, provider of Mopar motors, drive trains and transmissions for Collins Motorsports.

"We made some changes to the Mopar Dodge motor, and every change we made actually made the truck better," said Collins. "A lot of times when you make changes it doesn't quite work that way. The changes made things better for us. We had better traction, better power, a little less torque—it all works in our favor. It doesn't happen like that very often."

The biggest obstacle Collins sees in the way of his three-peat bids?


"Getting the truck home. It has been great, we haven't had any problems, but you battle the machine against the desert. Chuck and I both have to have a really good day and the team has to do their job, and if all that comes together and we have a clean run, we'll get overall."

"Mopar is thrilled to see Brian and the Collins Motorsports team score two victories so soon after the brand's return to off-road racing," said Rob Richard, Director of Mopar Parts, Sales and Service Marketing, Chrysler LLC. "The success of the No. 12 Mopar Dodge Ram 1500 Trophy Truck confirms the high engineering standards inherent in our 'Trail' products – Mopar Performance Parts for Jeep® vehicles and Dodge trucks. Participating in these off-road programs tests our Mopar parts so our customers know they've been validated in the most grueling conditions."

Mopar's "Trail" initiative was announced at the Specialty Equipment Market Association (SEMA) show in Las Vegas in October 2007. "I just got done testing the truck and it's better than it's ever been before," Collins raved. "The Mopar Dodge motor is running fabulous. Chuck and I are excited. If everything goes well, we'll get another overall. All we can do is do our homework and do the best we can do."

40th Annual Tecate SCORE Baja 500
Pre-race festivities for the 40th Annual Tecate SCORE Baja 500 begin Thursday, May 29 at the annual SCORE Meet the Racers Fiesta from 1 to 10 p.m. at the Ventana al Mar Plaza. The SCORE Manufacturer's Midway will be held on Friday, May 30 from 10 a.m. to 6 p.m. Racing begins with the drop of the green flag at 6 a.m. on Saturday, May 31 for the motorcycle and ATV classes, followed by the car and truck classes three hours after the last ATV at approximately 9:30 a.m.

70 Years of Mopar When Chrysler bought Dodge in 1928, the need for a dedicated parts manufacturer, supplier and distribution system to support the growing enterprise led to the formation of the Chrysler Motor Parts Corporation (CMPC) in 1929.

Originally used in the 1920s, Mopar (a simple contraction of the words MOtor and PARts) was trademarked for a line of antifreeze products in 1937. It was also widely used as a moniker for the CMPC. The Mopar brand made its mark in the 1960s – the muscle car era. The Chrysler Corporation built race-ready Dodge and Plymouth "package cars" equipped with special high-performance parts. Mopar carried a line of "Special Parts" for super stock drag racers and developed its racing parts division called Mopar Performance Parts to enhance speed and handling for both road and racing use.

Today, Chrysler LLC's Global Service & Parts division is responsible for the manufacturing and distribution of nearly 250,000 authentic Mopar replacement parts, components and accessories for Chrysler, Jeep and Dodge vehicles sold around the world. To assure quality, reliability and durability, all Mopar parts and accessories are designed in strict adherence to Chrysler Engineering standards.