&nbspDesertRacing.com > News Archives


[an error occurred while processing this directive]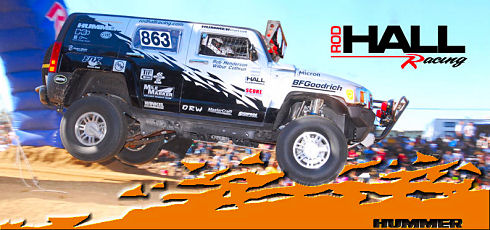 HUMMER RACING
TO TACKLE 40th ANNIVERSARY BAJA 500
"Rod Hall Seeks Record Breaking 18th Victory"
DETROIT . HUMMER off-road racing teams bring their winning traditions to the Baja peninsula once again as Rod Hall Racing's Team HUMMER and Robby Gordon Off-Road prepare their HUMMER desert race trucks to tackle this year's 40th Anniversary SCORE International Tecate Baja 500, May 30 thru June 1, in Ensenada, Mexico.
2008 marks a special year for Team HUMMER as owner and stockclass H3 driver Rod Hall, 70, seeks his recordsetting 18th Baja 500 class victory. Joining Hall are his two sons, Josh and Chad, entering their full]stock class H2 SUT and H3 Alpha.
Rod Hall, Team HUMMER owner and pilot of the #760 mini-stock class H3 is a living legend in the offroad racing world. His relentless and unfailing driving ability has earned him a record 19 career wins at the Baja 1000 and the distinction of being the only driver in history to win the Baja 1000 overall in a 4-wheel drive vehicle. Moreover, Rod Hall today remains the only person to have raced every Baja 1000 in a four-wheeled vehicle in the 40year history of the event.
Hall enters the 2008 race, tied for the record of total class wins at 17 and mini stock class winner in 2006 and 2007. Hall currently leads the SCORE mini stock class in season points with class wins at the Laughlin Desert Challenge and Baja 250.
"With 12 years of experience racing stock-class Hummers, I believe that they are the most capable off-road vehicles straight from the factory," said Rod Hall. "In fact, the H3 Alpha and H3 were the first stock-class vehicles to finish the 2007 Baja 1000."
Team HUMMER H3 Alpha driver, Chad Hall, enters the 2008 race as points leader in the fullstock class. Hall and the 2008 H3 Alpha were the first stock class vehicle to finish the 2007 Baja 1000, and Hall has a 2008 class victory at SCORE's Laughlin Desert Challenge
Also entered in the stock-full class, Team HUMMER H2 SUT pilot Josh Hall returns to Baja in his full-stock class, 2008 HUMMER H2 SUT. He enters the 2008 race with a class victory at the Baja 250. Josh teamed with Rod in the 2007 Baja 1000 to earn the mini-stock class victory and become the second stock-class vehicle to finish the 2007 race.
International racing legend and three time overall Baja 1000 champion, Robby Gordon, owner of Robby Gordon Off Road, prepares to race the Team Dakar USA purpose built H3 in the Baja 500 Trophy Truck class. Gordon and the H3 most recently finished 10th overall in the inaugural Central Europe Rally, winning two specials in the fifth and sixth stages of the race.
About HUMMER
HUMMER is a division of General Motors Corp. (NYSE: GM), the world's largest vehicle manufacturer, which employs about 321,000 people globally. HUMMER is a premium off-road vehicle manufacturer with sales in 37 countries and a product line-up that consists of the H2, H2 SUT, H3, H3x, and awardwinning H3 Alpha.
Information on HUMMER products is available at www.hummer.com .
Robby Gordon Motorsports is based in Huntersville, N.C., and owned by Gordon. In addition to its Dakar effort, the team focuses its attention on competing in America's biggest racing series the NASCAR Nextel Cup Series. The team has run numerous seasons in various racing series, including CART, the Score International Off Road Series, the NASCAR Busch Series, the NASCAR Nextel Cup Series and several oneoff efforts in the famed Indianapolis 500, with Gordon enjoying success at every level of his storied career as an owner and driver. He prides himself on his meticulous nature, which includes building cars, trucks and other racing machines that are among the best in their respective disciplines.
For more information visit www.robbygordon.com .
About Team HUMMER
Team HUMMER was founded by legendary off-road racer Rod Hall in 1993. Since then, Rod and his sons Josh and Chad have compiled 13 class wins at the SCORE Baja 1000; countless podium finishes in the Best in the Desert (BITD) Racing Association series; two SCORE class championships; and five BITD class championships. Team HUMMER competes with the H3, H2 SUT and H3 Alpha in the stock class, which features productionbased vehicles with stock frames, stock suspension designs and productionbased engines.
For more information about Team HUMMER, visit www.rodhallracing.com .