&nbspDesertRacing.com > News Archives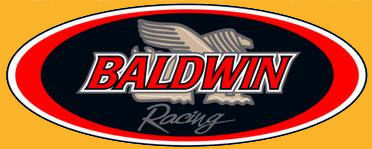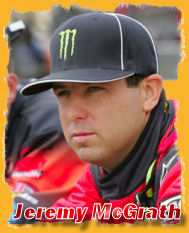 SWAY-A-WAY RACERUNNER SHOCKS
STEAL THE PODIUM AT CORR
CHATSWORTH, CA - Rounds 5 & 6 of the CORR Racing series at Pomona proved to be no match for Sway-A-Way Racerunner Shocks as Todd Leduc slides by the competition while taking the gold in both rounds with his Rockstar Energy Drink /Makita Power Tools Ford Pro-2 race truck. In addition to the LeDuc wins, Jeremy McGrath, the King of Supercross turned his Sway-A-Way backed Baldwin Racing/Monster Energy/Bully Dog Ford Pro-2 into a bronze medal during Saturdays round 5 main event. With 3 of 8 events complete, Todd Leduc?s weekend sweep and McGraths's consistent finishes, with 3 total podiums, locks both LeDuc and McGrath into a tie for third in the Pro-2 standings.
Brian Skipper, President of Sway-A-Way, commented. We are super excited to see our Racerunner Shocks in the winners circle. Its a testament to the quality and reliability of our products when high profile racers like, Todd LeDuc, Jeremy McGrath and others choose to run our shocks and then take home podium finishes. We are proud to have these great racers using our product.
The CORR round 5 & 6 events also spotlighted Sway-A-Way rookie racer, Kyle Quinn, as he placed fourth in a large 22 car field on Sunday in his Single Buggy. Kyle currently holds the eight place points position of 37 after only six rounds of race action. Watch for Kyle to turn up the heat as he logs more laps in his new race car.
Sway-A-Way would like to thank all of those who choose to ?control their ride? with Racerunner Shocks. Baldwin Racing (Josh Baldwin & Jeremy McGrath), Todd LeDuc, Gene Woods, Lance Rhinehart, Chuck Dempsey, Brady Helm, Kyle Quinn, Cissy Baldwin, Billy McCool, and Jack Yeiser are Racerunner racers. Continue to watch them this year as they compete in the highest level of short course racing this world has ever scene.
About CORR:
Championship Off Road Racing brings high action, four wheel motor sports including 2 wheel drive and 4 wheel drive trucks to the closed course off road arena. The 2008 Championship Off Road Racing's race season includes eight events at tracks located in Los Angeles, CA, San Diego, CA and Las Vegas, NV. Visit www.corracing.com for more information.
About Sway-A-Way & Racerunner Shocks: Horsepower For Your Suspension For almost 40 years Sway-A-Way has been a leader in off-road suspension technology, providing high performance shocks, suspension systems, torsion bars, anti-sway bars, and drive axles to the off-road industry and enthusiasts alike. The Racerunner Shocks brand is Sway-A-Ways most elite suspension line, found on race vehicles and OEM aftermarket specific suspension systems around the world.