&nbspDesertRacing.com > News Archives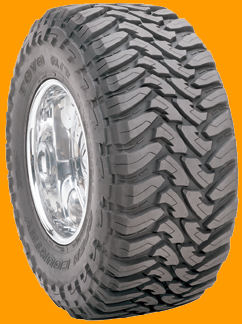 Kevin Probst Wins at Crandon
on ToyoR Open Country M/T-RR Tires,
Moves into Tie for
WSORR Championship Points Lead in the Pro 2WD Class
CRANDON, WISCONSIN - Kevin Probst, driver of the E3 Spark Plugs/Dixi Choppers/Simply WOW/Toyo TiresR Chevy Silverado truck, won Saturday's Round III of the Pro 2WD class of the World Series of Off-Road RacingR (WSORR) this past weekend on ToyoR Open Country M/TR-R tires. As part of the Forest County Potawatomi Brush Run held at Crandon International Off-Road Raceway in Crandon, Wisconsin, Probst was on fire during the weekend. He also finished second during Sunday's Round IV to move into a tie to lead the Pro 2WD class championship.
"Saturday's race went so easy it was amazing. I got the hole-shot and led wire-to-wire the entire race. I could have put an even bigger lead on the field if I wanted," said Probst. "My Toyo tires were perfect; the truck was perfect, we couldn't be happier."
Also winning this past weekend was Ben Wandahsega driving the Forest County Potawatomi/Toyo Tires Chevy Silverado on 35X12.50R17 D.O.T. Open Country M/TR tires. Wandahsega finished seventh overall and first in the SRT Super Truck class during the 15th running of the Forest County Potawatomi Chairman's Cup Challenge on Sunday. Earlier in the day, he finished third to stand on the podium in the SRT Super Truck race.
"My Toyo Open Country M/T tires were super fast, giving me a hole-shot for the lead on both Saturday and Sunday, while also working great in the corners," said Wandahsega. "I lost an engine in Saturday's race, and then discovered both of our radiators were damaged by rocks. I had one good radiator on Sunday, so had to slow during the race in order to save the engine and finish in third."
"We congratulate both Kevin Probst and Ben Wandahsega on their wins using Toyo tires this past weekend," said Stan Chen, manager of events and motorsports, Toyo Tire U.S.A. Corp. "Their wins demonstrate the versatility of both the D.O.T. and race versions of our Open Country M/T."
To learn more about Team ToyoR Off-Road race drivers, and about the Open CountryR line of light truck tires from Toyo, log on to toyo.com . Toyo manufactures and distributes a complete line of replacement tires for high performance cars, luxury vehicles, light trucks and SUVs as well as tires for commercial trucks, buses and off-road and construction applications.