&nbspDesertRacing.com > News Archives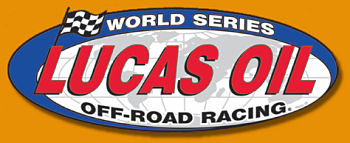 WSORR ENTERS SECOND HALF OF SEASON
WITH OSHKOSH NIGHT RACES AND
VANDEN HEUVELS "FLYING" HIGH
OSHKOSH, Wisc. - Rope off a large section of the grandstands for the Vanden Heuvel "fan club" as the scene is set for the prime-time appearance of this well-known off-road family from nearby Appleton as the Lucas Oil World Series of Off-Road Racing Series (WSORR) marks the second half of its season with a stop at Oshkosh Speedzone Raceway with two big nights of racing July 25-26th.
More than a hundred off-road race teams will descend on the Wisconsin community to battle for the World Series $100,000 weekend purse during the Potawatomi Casino "Off-Road Nights of Thunder" presented by Traxxas™RC Cars.
This marks the first time in the 39-year history of the sport that consecutive rounds of racing will be run under the lights. "This is history in the making with back-to back night racing in our sport," said Doug Davis, president & general manager, WSORR. "Racers enjoy competing under the lights and night racing will add even more appeal to our highly-rated, high-definition SPEED TV broadcasts," he added.
The spotlight will undoubtedly be focused on Dan "the Flying Dutchman" Vanden Heuvel and his two sons Dan, Jr., and Mike. The elder Vanden Heuvel is enjoying a huge year in his 30th anniversary season of off-road racing by leading the PRO 2WD points chase and trips to the podium in five of the six races of WSORR Tour 2008 in his Maxxis Chevy. Mike Vanden Heuvel leads the 1600 Light Buggy class points race in his Toyo VW and has three wins on the season. He also has back-to-back wins acting as a substitute driver in the 1600 Buggy class and is currently riding a four-race win streak pulling double duty in both of WSORR's SRT buggy classes.
Dan Vanden Heuvel, Jr., steps into the family fray for WSORR Rounds VII & VIII and will face off against his famous father as a substitute driver for PRO 2WD competitor Evan Evans in the Potawatomi BFG Chevrolet. Evans selected "Junior" because of his motocross experience since Evans' truck is operated by hand controls due to a motorcycle accident he suffered years ago. Dan Vanden Heuvel, Jr., also has extensive experience in WSORR's PRO Light Pickup class finishing eighth in the points chase in 2007. Senior and Junior had better not get caught up in any sort of family feud on the track because the rest of the PRO 2WD class will certainly take advantage of the distraction. Kevin Probst in the E3 Sparkplugs Lucas Oil Toyo Chevy is only six points behind the leader and Dave Waldvogel in the Bendix Toyo Chevrolet is third in the points with Ross Hoek in the Skyjacker Suspensions Goodyear Ford only another three points behind in fourth. Waldvogel, in a surprisingly successful first-ever campaign in the PRO 2WD class, will also have the benefit of an enthusiastic local fan base as he hails from nearby Fond du Lac, Wisc.
The team driver strategy will be a factor in the PRO Light Pickup battle class as points leader Jeff Kincaid's Potawatomi Traxxas™ BFG Toyota will be piloted by his son Keegan for Rounds VII & VIII. Kincaid jumped off to a big points lead with four straight wins at the start of the season but the rest of the class has made up much of that ground and now Steve Federico in the Invisible Glass P F Changs Sticker Dude Hankook Toyota has the leader in his sights. Federico is coming off the momentum of a Round V win and a third place finish in Round VI. Third in the points is Jon Probst, in the E3 Spark Plugs Lucas Oil Toyo Nissan, who put together back-to-back second place finishes in his most recent race weekend.
The closest points battle anywhere across the board in the World Series is found in the PRO Super Buggy class where a mere two points separate first and second at the halfway mark. John Mason of Plymouth, Wisc., in his Mendeola Goodyear Honda, and Tim Lemons, of Harrison Twp., Mich., in a Goodyear Toyota, both have a pair of wins and six straight podium finishes in 2008 with Mason holding the slight edge and currently on a two win race streak. Defending class champion Gary Nierop, of Aldergrove, British Columbia, is third in what is shaping up to be a photo finish down the stretch in the first year this class has achieved PRO status.
In the final World Series PRO class, Kent Brascho, of Pell City, Ala., continues to lead the way in the PRO 4x4 class with one win and four second place finishes in the six rounds of racing in his Lucas Oil Goodyear Chevrolet. Jerry Daugherty, of Henderson, Nev., in his Racin' Dirty Goodyear Chevy, has moved into second in the points just one point better than Al Drews, Ypsilanti, Mich., in a Ford.
In the World Series SRT, or Sportsman Division, the ultra-competitive Super Truck battles have been a joy to watch in the first six rounds with Keith Steele, of Madison, Wisc., grabbing three of the wins in his Monster Energy Goodyear Chevy and the points lead. In his first full season of the Super Truck class, Steele has been a model of consistency finishing on the podium five times and holding off two of the past class champions in the process. Dan "the Rocket Man" Baudoux is eleven points back in the Mole Lake Casino BFG Ford and another point back is last year's champ, Ben Wandahsega, in the Potawatomi Toyo Chevrolet. Ross Hoek, in the Skyjacker Goodyear Ford is just another point back in fourth.
In the Stock Truck points race, Craig Metz, of Rhinelander, Wisc., leads the way but the top eight in the class have a realistic shot at the title at the halfway point. Metz has two wins in his Able Distribution BFG Ford but is only five points ahead of Eric Ruppel in the Phil's Inc., BFG Ford. Last years' class champion, Scott Beauchamp, is another two points behind in his Trail Ready Goodyear Chevrolet.
It's also close in the WSORR 1600 Buggy class with Mark Steinhardt, of Rhinelander, Wisc., in a Phils Inc BFG machine just four points ahead of Mike Seefeldt, also on BFGs. Steinhardt has three wins in the first half of the season but Seefeldt has kept pace by virtue of five podium finishes. Brad Erickson, in a Goodyear buggy is in third. Mike Vanden Heuvel, as noted earlier, leads the 1600 Light Buggy class with a seven-point margin over local racer Matt Gerald of Neenah, Wisc., in his Potawatomi Goodyear buggy. Jeff Virnig on BFGs is third. Defending Formula 4x4 class champion Dave DeMaegd, of Mishawaka, Ind., in a Goodyear Jeep continues to lead that class with Jim Ridderbush in a BFG Chevy second and Tim Moeller in his Goodyear Ford moving up to third based on his three wins in a row. Marc Rogaczewski is the Enduro Truck class points leader followed by Matt Dale and Ben Wierzba. Rob Weiland in his Goodyear Chevy leads the Classix class followed by Kurt Schuch and Justin Keehner.
The big race weekend in Oshkosh marks the first return to the area by a national off-road race Series in 12 years. Gates at Oshkosh Speedzone Raceway open at 3 P.M. on both Friday and Saturday, July 25-26th, with opening ceremonies and racing slated for 6 P.M. Adult weekend ticket prices are $25 or $15 nightly. Children's tickets are $5 for the weekend or $3 per night.
More information about the Oshkosh event and the World Series is available at www.wsorr.com .