&nbspDesertRacing.com > News Archives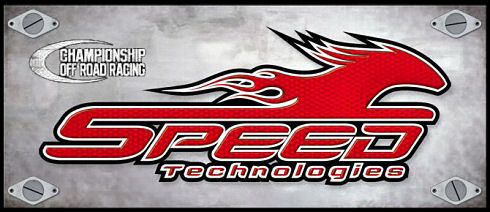 SPEED TECHNOLOGIES
DRIVERS CASEY CURRIE AND CHUCK DEMPSEY
READY FOR ROUND 5 AND 6 OF
CHAMPIONSHIP OFF-ROAD RACING (CORR)
IN CHULA VISTA
RENO, NV - Speed Technologies, one of the largest and foremost off-road race teams in the United States and Mexico, is gearing up for rounds five and six of the popular CORR series (Championship Off Road Racing) taking place at Chula Vista in San Diego County. Casey Currie and Chuck Dempsey will be competing this upcoming weekend, both drivers hoping to take home a podium finish for Speed Technologies.
"Speed Technologies continues to move forward in the CORR series and we're feeling more and more comfortable each week," said team owner and racer John Harrah.
Dempsey races his Nissan Pro-Lite truck under the Speed Technologies banner as part of Casey Currie's Bully Dog Team. Curry, who manages and runs his own full-time CORR team, is co-sponsored by Speed Technologies and races under the Bully Dog banner.
"I feel really comfortable now," said Curry. "We have been working really hard over the five week break to get the truck dialed in. The team is bonding and Speed Technologies is really making things happen." This is Dempsey's first year racing CORR, but he's well-known in desert racing circles and in 2005 took home a first place motorcycle finish in the Baja 500. Curry has been competing in the off road and motorcycle circuit for over six years. In 2005 Curry raced the SuperTT series in Southern California, and after advancing to the AMA professional SuperMoto series he placed fifth in the nation.
About Speed Technologies
Established in 2006 Speed Technologies is owned by John Harrah and headquartered in Reno, NV at Rancharrah. The team operates both an off-road car and motorcycle team. Competing in both the SCORE Desert Series and the Best in the Desert, Speed Technologies is a full-time operation supported by a full time staff as well as additional chase and safety crews. Speed Technologies is committed to safety both on and off the track.
About CORR Racing
Championship Off Road RacingT brings high action, four wheel motorsports including 2 wheel drive and 4 wheel drive trucks to the closed course off road arena. The 2008 Championship Off Road Racing's race season includes eight events at tracks located in Los Angeles, CA, San Diego, CA and Las Vegas, NV.
CORR's success continues to evolve in a simple formula: Combine close fender-to-fender racing on a course designed to allow the fan in the stands to see all the action on the track, while allowing television viewers at home to live vicariously through their favorite driver.
For more information on Speed Technologies please visit
www.speed-technologies.com or call 775-851-7492.