&nbspDesertRacing.com > News Archives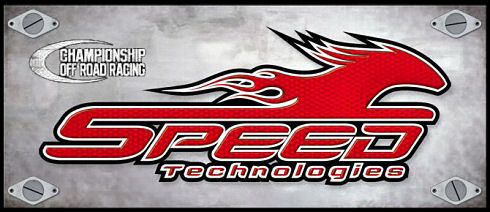 SPEED TECHNOLOGIES AND BULLY DOG'S CASEY CURRIE
TAKES 2ND IN PRO-LITE
DURING ROUNDS 11 & 12 AT CHULA VISTA
"First Year Driver Chuck Dempsey"
*Conquers 8th Place*
Chula Vista, CA - Casey Currie fought hard and fast to capture his podium finish this past weekend during rounds 11 & 12 of the 2008 CORR race season. After having a tough time during the first qualifying round and starting 9th Currie managed to come back and finish less than one second behind Marty Hart for a second place finish - his third podium this year.
"Going into the weekend we felt like we had a fast truck," Currie said. "After grueling testing we knew that the truck was ready to handle anything the race could throw at it"
Currie started round 11 in the 5th row and by the second last he was already in the sixth position - he started picking off his competitors one by one and found himself sitting in 4th by the halfway point of the race. Knowing the truck was fast and furious, Currie went deep into the first turn after the caution lap, but another driver hit the back of him and took him out. Currie managed to finish the first round in 17th place and his crew spent the better part of the night getting the truck ready for round 12.
Round 12 proved to be a winning combination for Currie - a fast truck, a 3rd place start and a strong lead during the first half of the race. Currie and Marty Hart battled it out during the entire race attacking each other and fighting for that first place finish. Though Currie didn't manage to pull into first place his 2nd place finish was only five tenths of a second behind the winner.
"I needed one more lap," Currie said. "I have never been able to actually battle the leaders so it was something new that I needed to learn - I think the experience really helped me grow as a driver. We are ready for Primm!"
About Speed Technologies
Established in 2006 Speed Technologies is owned by John Harrah and headquartered in Reno, NV at Rancharrah. The team operates both an off-road car and motorcycle team. Competing in both the SCORE Desert Series and the Best in the Desert, Speed Technologies is a full-time operation supported by a full time staff as well as additional chase and safety crews.
Speed Technologies is committed to safety both on and off the track.
For more info on Speed Technologies visit www.speed-technologies.com
or call 775-851-7492.
2008 CORR Series
(Remaining Races)
Rounds 13 & 14
October 25-26, Las Vegas International Off-Road Raceway-Primm, Nev.
Rounds 15 & 16
December 6-7, Chula Vista International Raceway-Chula Vista, Calif.