&nbspDesertRacing.com > News Archives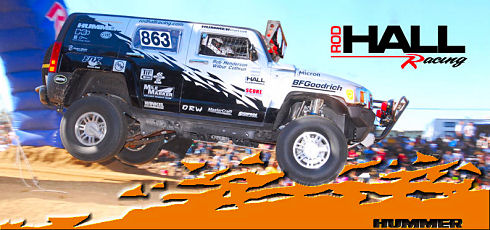 ROD HALL RACING
ENTERS BILEK RACING SILVER STATE 300
This weekend - Rod Hall Racing heads to Mesquite, Nevada for the Bilek Racing Silver State 300. Rod, Josh and Chad compete to maintain their class leads in the Best in the Desert Series Championship. The first truck leaves the line at 9:30 am on Saturday.
Course Info
After pre-running last week, the team described the course as having plenty fast graded road, several miles of narrow, winding mountain roads with cliffs and sharp turns. But typical of Nevada racing, visibility will be an issue. Rod noted that "passing could be difficult. If we get some dust free racing, it will be very enjoyable - if not, it will be a long day."
About HUMMER
HUMMER is a division of General Motors Corp. (NYSE: GM), the world's largest vehicle manufacturer, which employs about 321,000 people globally. HUMMER is a premium off-road vehicle manufacturer with sales in 37 countries and a product line-up that consists of the H2, H2 SUT, H3, H3x, and awardwinning H3 Alpha.
Information on HUMMER products is available at www.hummer.com .
About Team HUMMER
Team HUMMER was founded by legendary off-road racer Rod Hall in 1993. Since then, Rod and his sons Josh and Chad have compiled 13 class wins at the SCORE Baja 1000; countless podium finishes in the Best in the Desert (BITD) Racing Association series; two SCORE class championships; and five BITD class championships. Team HUMMER competes with the H3, H2 SUT and H3 Alpha in the stock class, which features productionbased vehicles with stock frames, stock suspension designs and productionbased engines.
For more information about Team HUMMER, visit www.rodhallracing.com .
Next Race
Tecate SCORE Baja 1000 - November 19-23rd.