&nbspDesertRacing.com > News Archives


[an error occurred while processing this directive]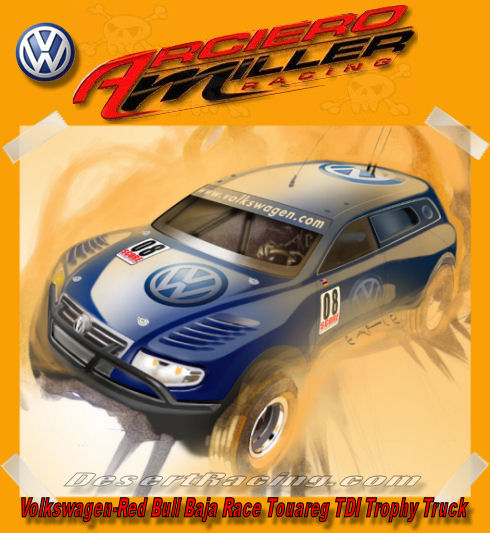 Volkswagen Announces Drivers and Sponsors
for Tecate SCORE Baja 1000

HERNDON, Va., The all-new purpose-built Volkswagen-Red Bull Baja Race Touareg TDI, powered by a clean diesel TDI engine, will be driven by motorsport veterans Mark Miller and Ryan Arciero as Volkswagen competes in the 41st running of the Tecate SCORE Baja 1000.

Mark Miller has been selectively dominating the sport of off-road racing for over twenty years. His unprecedented driving skills were recognized by one of the top leaders in Volkswagen motorsport, and in 2005 Mark made a full time commitment as a factory works driver for the Volkswagen Motorsports team based in Hanover, Germany.

"To become a professional racing driver was the best decision of my life. I just should have made it earlier," said

Mark Miller. In his youth he actually sacrificed a promising career in motorbike racing to study. As Volkswagen factory driver he now traces the path in reverse: The investment manager withdrew from the business to concentrate solely on his motorsport activities. Miller's strength: He is one hundred percent committed; for example he undertakes an intensive fitness program. His mental strength helps him to concentrate but stay relaxed at the same time: "One of my plus points is that I don't target any unrealistic goals and in doing so don't put myself unnecessarily under pressure," Miller added.

Miller, who is one of the few Americans to start the Dakar Rally, is regarded as multi-talented. In 1979, he competed in the SCORE Off-road Challenge for the first time on a motorcycle in his homeland, was successful in a NASCAR truck series, and scored several wins in the Trophy Truck class of the famous Baja 1000 and Baja 500 rallies.

Growing up in the racing world Ryan has experienced first-hand what victory feels like. Maintaining the legacy of his legendary racing family Ryan is determined to continue 50 years plus of Motorsports success that the Arciero family has worked so strongly to achieve. Whether Ryan is racing a 1000 mile off-road race or turning laps on the pavement, the skills and experience he gained have produced one of the most diverse drivers and successful racing resumes. As a Volkswagen factory driver, Ryan was instrumental in the inaugural season of the Volkswagen Jetta TDI Cup Series, where he coached and mentored a group of thirty up and coming talented young drivers on what it takes to succeed in the world of professional motorsports.

"The last time I won the Baja 1000 was in 2004 and it is something that drives me more and more everyday to get back to that feeling inside of being the best at what I do and to win one of the most demanding races in the world. For that day or that moment you are the best, number 1, and that feeling for me is like no other," said Arciero. "To now line up at the start of the 2008 Tecate SCORE Baja 1000 in the all-new Volkswagen clean diesel powered Baja Race Touareg TDI Trophy Truck for the very first time will also be a great feeling that I am really looking forward to," added Arciero.

Willie Valdez Jr. will be Mark Miller's navigator, and Benny Metcalf Jr. will be Ryan Arciero's navigator in the Tecate SCORE Baja 1000. Both Valdez Jr. and Metcalf Jr. have amassed multiple wins in various off-road racing classes both in the United States and Mexico.

The Volkswagen-Red Bull Baja Race Touareg TDI is sponsored by Volkswagen of America, Inc.,
Red Bull, BFGoodrich Tires, Dow Automotive, Oakley, KMC Wheels and Fox Shocks.

Red Bull
For information about Red Bull, visit www.redbull.com

BFGoodrich Tires
Using motorsports as a proving ground for more than 30 years BFGoodrich Tires is involved in every type of racing, including oval, sports car, drifting, drag, desert, dirt, rally and extreme rock-crawling. BFGoodrich Tires combines technological expertise with vast motorsports experience, delivering a high-performance tire for every type of vehicle.
For additional information about BFGoodrich Tires, visit www.bfgoodrichtires.com

Volkswagen of America, Inc.
Founded in 1955, Volkswagen of America, Inc. is headquartered in Herndon, Virginia. It is a subsidiary of Volkswagen AG, headquartered in Wolfsburg, Germany. Volkswagen is one of the world's largest producers of passenger cars and Europe's largest automaker. Volkswagen sells the Eos, Rabbit, New Beetle, New Beetle convertible, GTI, Jetta, Jetta SportWagen, GLI, Passat, Passat wagon, Tiguan and Touareg 2 through approximately 600 independent U.S. dealers. All 2009 Volkswagens come standard-equipped with Electronic Stabilization Program. This is important because the National Highway and Traffic Safety Administration (NHTSA) has called ESC the most effective new vehicle safety technology since the safety belt.
Visit Volkswagen of America online at vw.com

DOW Automotive Dow Automotive is a leading global provider of technology-driven solutions that meet consumer demands for vehicles that are safer, stronger, quieter, lighter, cleaner, more comfortable and stylish. The organization provides plastics, adhesives, glass bonding systems, sealants, emissions control technology, films, fluids and structural enhancement and acoustical management solutions to OEM, tier and aftermarket customers around the world.
For additional information about Dow Automotive products, services and application development centers, visit www.automotive.dow.com

Oakley
Oakley was created for world-class athletes, those who see the limits of possibility as just another challenge. 110 countries now enjoy a full array of market-leading products including premium sunglasses, goggles, prescription eyewear, apparel, footwear and accessories. These products represent their commitment to excellence - a passion that redefines what is possible for those who defy their own limits.
For additional information about Oakley, visit www.oakley.com

KMC Wheels
KMC Wheel Company was founded in 1982 originally selling steel wheels and accessories. In 2005 KMC was purchased by Wheel Pros Inc., the leading distributor of wheels in North America. KMC brands have experienced rapid growth since the acquisition in 2005 by keeping a simple business strategy of broadening its product line, increasing its market base, expanding its brand awareness through strategic product placements and corporate alliances. The success of this strategy is the natural outcome of KMC's vision, which is to be unique in the areas of design leadership, competitive product quality and competitive cost. Wheel Pros Inc. produces and distributes one piece wheels for the automotive aftermarket in sizes ranging from 14" to 26" with chrome, polish or painted finishes. Wheel Pros owns and markets various world recognized brand names and patents under such brands as KMC, XD Series and Lorenzo Wheels.
For additional information about KMC Wheels, visit www.kmcwheels.com

Fox Racing Shox
We've made suspension for 30 years, so we know how to design and manufacture the best suspension you can buy. We started out as an engineering company and things haven't changed. We focus on making high performance products without compromise. This philosophy doesn't always go over well with the bean counters, but our owner is an engineer - and the boss is always right! We design suspension solutions for the sports of ATV, Mountain Biking, Motocross, Offroad and Snowmobile. We know that passion is what drives you out on the trails and tracks of this world. It is this passion that pushes us to make unequalled suspension.
For additional information about Fox Racing Shox, visit www.foxracingshox.com

Volkswagen-Red Bull Baja Race Touareg TDI Specifications


Powertrain
Engine 5.5 Liter, 90 degree V-12 TDI Twin Turbo Diesel
Valve train 4 valves per cylinder, DOHC
Induction Dual Garrett TR 30 R with dual 43.5mm air-restrictors, 2.94 bar (absolute) pressure
Emissions Dow Automotive Diesel Particle Filters (2)
Horsepower 550 HP (405kW)
Torque 625 ft-lb (850Nm)
Layout Mid-engine, rear wheel drive
Transmission Xtrac 6 Speed Sequential
Rear Axle Custom Built solid 9" Rear Axle

Suspension
Front Double A-Arm Suspension – 25" wheel travel (63 cm)
Rear 4-Link Rear Suspension – 30" wheel travel (76 cm)
Front Shocks Fox Racing Shocks - 3.0 Coil-over with 3.0 Bypass/Multi-adjustable Dampener
Rear Shocks Fox Racing Shocks - 3.0 Coil-over with 3.0 Bypass/Multi-adjustable Dampener
Springs Eibach Coils
Wheels KMC 17" Custom Forged Beadlock
Tires BFGoodrich Baja KRT 37x13.5x17

General
Owner Volkswagen of America Inc.
Chassis Design Arciero Miller Racing
Body Design Volkswagen Design Center California
Dimensions
Wheelbase 125 in. (317 cm)
Overall Length 213 in. (541 cm)
Track Width 92 in. (233 cm)
Overall Height 78 in. (198 cm)
Weight 5650 lbs. (2562 kg)
Brakes Brembo 6 Piston Calipers
Steering Lee Manufacturing
Interior
GPS Lowrance 9200 system
Seats Sparco Carbon Fiber Racing seats
Fuel Cell 65 Gallon (240 Liter) Capacity, designed by Harmon Fuel Cells

Sponsors: Sponsored by Red Bull, BFGoodrich Tires, Dow Automotive, Oakley, KMC Wheels, Fox Shocks.