&nbspDesertRacing.com > News Archives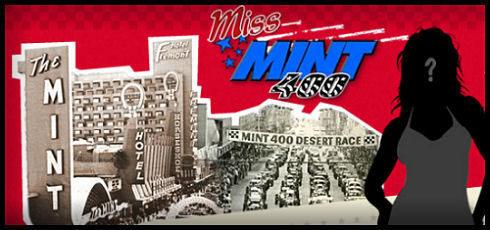 General Tire
Announces
Miss Mint 400 Competition
CHARLOTTE – The desert won't be the only spot for competition during the upcoming General Tire Mint 400. Do you think you have what it takes to be the next Miss Mint 400? If you do then, upload your photo and get your friends to vote for you! Go to www.generaltire.com to register.
In its heyday, the Race was famous for celebrity drivers and the Mint 400 Girls, and each year Miss Mint 400 was crowned. Over the years, the title was given to a number of famous models, including Linda Carter (Wonder Woman) and "Wheel of Fortune" letter-turner Vanna White, to name a few.
Miss Mint 400 finalists will attend the Mint 400 kickoff party on Thursday, March 26, 2009, where the winner will be crowned. Miss Mint 400 will appear at the Mint 400 Tech Day on Friday, March 27th and will help start the race Saturday March 28, 2009. In addition to being the centerpiece of all Mint 400 activities, the winner will receive $1,500 and a personal photo shoot.
Contestants must be 18 or older, and must be able to attend the General Tire Mint 400 March 26-28, 2009.
"The General Tire Mint 400 is one of the most exciting off-road racing events, so this year, we're bringing back the famous Miss Mint 400 to kick off the race in style," said Travis Roffler, director of sales and marketing, General Tire. "It's just one way we can make this event even more exciting, and to give the new General Tire Mint 400 a solid place in the racing circuit."
Roffler added that the race is a perfect showcase for the General Tire Grabber® off-road competition tires, and is a continuation of General Tire's triumphant return to desert racing.
General Tire 'unleashed the fury' in off-road competitive performance in 2008, scoring a multitude of wins and podium finishes in its inaugural season. Designed with a tough, three-ply Duragen™-reinforced body construction to stand up to the rigors of off-road conditions, the Grabber also features a newly-developed competition-specific tread compound. In addition, the Grabber name and General Tire logo are prominently featured on the sidewall in red and white letters. The Grabber competition tires are designed in size 37x12.50R17 for class 8 and trophy truck/trick truck and 35x12.50R17 for class 1, 6, 7, 7 S, stock mini and Protruck.
General Tire also has a complete line of Grabber tires for the passenger and light truck market, including the new Grabber DOT-approved off-road tire (launching later this year); the Grabber HTS, which delivers the perfect synergy of comfort, durability and performance; the Grabber UHP, which sets a whole new standard in performance and ride quality for SUVs, light trucks and crossover vehicles; and Grabber AT2, designed for aggressive all-terrain traction in all weather conditions.