&nbspDesertRacing.com > News Archives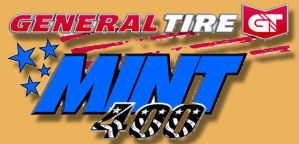 General Tire
Returns as Title Sponsor of the
2009 Mint 400 Desert Race
CHARLOTTE, NC – General Tire will return for the second year as the title sponsor of the General Tire Mint 400 Race when the classic off-road contest thunders out into the Nevada desert on March 28, 2009.
The revitalized General Tire Mint 400 will run on the grounds of the old Mint 400 with the start/finish line located in the vicinity of the fireworks stand/plaza on the Moapa Indian Reservation outside of Glendale, NV, near State Route 168 and I-15. Racers will navigate through an arduous 95-mile lap course to the finish line some 16 hours later. Last year's Mint 400 took place on one of the original courses south of Las Vegas in an area near Primm, and was won by Trophy Truck drivers Brian Collins of Las Vegas and Chuck Hovey of Oceanside, California.
New this year is an expanded Tech/Contingency Inspection on Friday, March 27, which will cover the entire length of the Fremont Street Experience, as well as the Fremont East Entertainment District. Presented by the Southern Nevada Off-Road Enthusiasts (SNORE), vehicles will line up for Tech/Contingency Inspection Main Street to Eighth Street under the world-renowned Fremont Street Experience Canopy.
In its original hey-day, the Tech/Contingency Inspection attracted as many as 500 cars, and huge crowds to match. Organizers are predicting a return to those numbers with this year's expanded event.
For 2009, race will again attract a slate of celebrity racers as it did in the original races. Also on tap are a variety of entertainment events, including a Miss Mint 400 competition.
"General Tire is bringing the Mint 400 back to its former glory," said Travis Roffler, director of marketing, General Tire. "This race is a perfect showcase for our Grabber® off-road competition tires, and it's a continuation of General Tire's triumphant return to desert racing."
General Tire 'unleashed the fury' in off-road competitive performance in 2008, scoring a multitude of wins and podium finishes in its inaugural season. Designed with a tough, three-ply Duragen™-reinforced body construction to stand up to the rigors of off-road conditions, the Grabber also features a newly-developed competition-specific tread compound. In addition, the Grabber name and General Tire logo are prominently featured on the sidewall in red and white letters. The Grabber competition tires are designed in size 37x12.50R17 for class 8 and trophy truck/trick truck and 35x12.50R17 for class 1, 6, 7, 7 S, stock mini and Protruck.
General Tire also has a complete line of Grabber tires for the passenger and light truck market, including the new Grabber DOT-approved off-road tire (launching later this year); the Grabber HTS, which delivers the perfect synergy of comfort, durability and performance; the Grabber UHP, which sets a whole new standard in performance and ride quality for SUVs, light trucks and crossover vehicles; and Grabber AT2, designed for aggressive all-terrain traction in all weather conditions.