&nbspDesertRacing.com > News Archives


[an error occurred while processing this directive]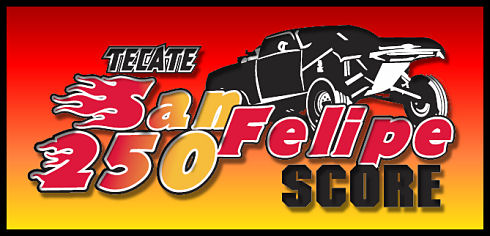 Collins looking to repeat
as pre-running starts Saturday for
23rd Tecate SCORE San Felipe 250
Nearly 225
Cars, Trucks, Motorcycles & ATVs
from 20 U.S. States & Six countries expected in
March 14th Popular Desert Race in Mexico;
Motorcycle and ATV classes to be featured on
NBC Sports Show
LOS ANGELES—As pre-running starts Saturday for next month's 23rd Annual Tecate SCORE San Felipe 250, veteran Las Vegas desert racer Brian Collins and his Collins Motorsports team are finalizing plans to repeat as overall and SCORE Trophy-Truck winners of the popular spring race. With four class wins in this race, Collins is the defending Overall winner in this event in the No. 12 Collins Motorsports Dodge Ram1500.
Round 2 of the 2009 SCORE Desert Series will be held March 13-15 in Mexico's quaint and picturesque fishing village of San Felipe, located on the East side of the Baja California peninsula along the azure waters of the tranquil Sea of Cortez.
With nearly 225 entries from 20 U.S. States and six countries expected to compete in 28 Pro and 6 Sportsman classes in the 232.4-mile race, the green flag will drop at 6 a.m. local time on Saturday, March 14, for the motorcycle and ATV classes, followed three hours later by the car and truck classes at approximately 10 a.m. local time. The start line for the race will once again be the landmark San Felipe Arches on Highway 5 on the outskirts of San Felipe. The race will finish just south of the Arches, directly behind the Tecate building. One vehicle will start every 30 seconds in the elapsed-time race, with a 10-hour time limit to become an official finisher.
Following January's season-opening SCORE Laughlin Desert Challenge, the World's Foremost Desert Racing Series will visit Mexico for the first of three races in 2009.
"We appreciate all that the Mexican officials have done to provide us with the same race route as last year as well as continuing all of the other safety-related support they provide for all of the SCORE Baja races," said Sal Fish, SCORE President/CEO. "This will be another exciting a memorable adventure and we look forward to spending 'Spring Break' in San Felipe with the world's best desert racers."
This year's race will use the same 232.4-mile race course as 2008, running in a counter clockwise direction out of San Felipe up to and then back West along Highway 3 and back South and down through three of the most picturesque and challenging washes in all of Baja.
After the start at the landmark San Felipe Arches, the race will proceed north towards Zoo Road. The area approaching the Zoo Road crossing was bladed last year, making a safer approach to the popular spectator area. That area will again be fenced and patrolled so that spectators can watch the action but not put themselves in way of the action.
This will be one of the few times that SCORE will run through the majestic Matomi Wash in the early part of the race instead of near the end. After Matomi, the challenging course will run through two more of the infamous Baja washes—Azufre and Huatomote before heading back Northwest for the final 19.6 miles to the finish line.
Collins, who also captured the overall victory in this race in 1990 to give him two career San Felipe overalls, is one of 10 overall San Felipe race winners out of the last 13 years who is entered this year.
"We have done pretty well in the SCORE San Felipe 250 over the years and running the same course this year will help our mental as well as physical preparation for the race," said Collins, who has five career SCORE Trophy-Truck race wins in the 15-plus year history of the marquee SCORE racing division for high-tech, 800-horsepower, unlimited production trucks. Among his victories were back-to-back triumphs in the 2006 and 2007 Tecate SCORE Baja 500.
Leading the way of returning overall winners with three victories are Las Vegas brothers Tim and Ed Herbst (1999, 2000, 2001) who after taking last year off of desert racing will debut their new No. 19 Terrible Herbst Motorsports Ford F-150 SCORE Trophy-Truck.
Mark Post, Laguna Beach, Calif. also has three San Felipe overall wins, one in Class 1 (1998) and two in SCORE Trophy-Truck (2004, 2007). Post won with Jerry Whelchel in 1998 and 2004 and in 2007, his second driver was current teammate Rob MacCachren, Las Vegas, in the No. 3 Riviera Racing Ford F-150.
MacCachren has two San Felipe overall wins, having also won in 2003 as the second driver for Mexico's Gus Vildosola. Vildosola will be the second driver this year for his son Gus Vildosola Jr., in the popular No. 4 Red Bull Vildosola Racing Ford F-150 SCORE Trophy-Truck.
NASCAR's Cup team owner/driver Robby Gordon, who is the current SCORE Overall and SCORE Trophy-Truck point leader after his season-opening SCORE Laughlin Desert Challenge, won in San Felipe in 1996 and will be driving this year in the No. 77 Robby Gordon Racing Chevy CK1500.
Curt LeDuc, Cherry Valley, Calif., won the San Felipe overall in 1997 and will be second driver this year for Nick Vanderwey, Phoenix, in the No. 84 Flying Dutchmen Chevy Silverado.
SCORE Trophy-Trucks have won 13 overalls in San Felipe in their 15-year history. Post/Whelchel in 1997 and San Diego's son/father team of Andy and Scott McMillin (2005) have the only two Class 1 wins since SCORE debuted the featured SCORE Trophy-Truck division in 1994.
Champion Southern California desert racers Damen Jefferies and Robby Bell received the pole positions for four-wheel and two-wheel vehicles in the computerized drawing for starting positions held Feb. 21. Jefferies races in the featured SCORE Trophy-Truck division while Bell competes in Class 22 for open motorcycles.
Jefferies, 36, of Apple Valley, Calif., is a veteran SCORE desert racer who has three career SCORE Class season point titles in three different classes, including the 1997 SCORE Overall point championships. Also a successful desert chassis builder, Jefferies is racing the No. 22 Jefferies Racing Chevy Silverado this year with Luis Ramirez Jr. of Cabo San Lucas, Mexico. Jefferies is eighth in his class point standings this year after finishing fifth last season.
Bell, 23, of Sun City, Calif., has left the factory Honda team after winning the two-wheel overall title in San Felipe the last three years and will be teamed with another former Honda rider Mike Childress on the No. 1x Kawasaki KX450F. Bell drew the first start last year as well for the JCR team owned by SCORE Baja racing legend Johnny Campbell.
SCORE Trophy-Truck has the most entries to date with 20, followed by Class 1-2/1600 with 15 and the unlimited Class 1 with 14. Late registration will be accepted up until race morning and as many as 30 more entries are expected.
Besides Collins and Bell the other defending class winners expected back this year are: Germany's Armin Schwarz (Class 1), Adam Pfankuch, Carlsbad, Calif. (Class 1-2/1600), Donald Moss, Sacramento (Class 3), Marcos Nunez, Ensenada, Mexico (Class 5/1600), John Holmes, Olivenhain, Calif. (Class 7SX), Rodrigo Ampudia Jr., Ensenada, Mexico (Class 8), Eric Solorzano, Tijuana, Mexico (Class 11), Anna Cody, Simi Valley, Calif. (Class 20), Jim O'Neal, Simi Valley, Calif. (Class 30), Bret Helm, Poway, Calif. (Class 40-Scott Myers is rider of record this year) and Wayne Matlock, El Cajon, Calif. (Class 25).
Also back to defend his Sportsman class win among those entered to date is Sportsman Car winner Peter Lang.
The pre-race Manufacturer's Midway and tech inspection of the vehicles in the race will be held on Friday, March 13 from 10 a.m. to 6 p.m. on the picturesque Malecon, flanked by the Sea of Cortez on one side and the popular restaurants and night clubs of San Felipe on the other.
At 10 a.m. on Sunday (March 15), the awards celebration will be held in front of The Beachcomber Night Club on the Malecon.
Through the efforts of SCORE's electronic media partner, Aura360, SCORE has also announced that the motorcycle and ATV race will be featured in the April 26 NBC Sports telecast of the Jeep World of Adventure Sport.
This will mark the third time these classes have been featured on that NBC show and Aura360 will also produce a complete-race DVD on the Tecate SCORE San Felipe 250 for the first time. For the past five years, Aura360 has produced special DVDs of both the Tecate SCORE Baja 500 and the Tecate SCORE Baja 1000 races. The special DVD from the 2008 Tecate SCORE Baja 1000, featuring the 43-minute NBC broadcast of the race along with special never-before-seen bonus coverage.
In addition to season point class point championships, drivers in the Pro car and truck classes are also racing to earn prestigious SCORE Toyota Milestone Awards given to all car and truck class drivers who complete every required mile of the five-race season. Being presented by Toyota Motorsports for the 24th consecutive year, a total of 52 drivers remain eligible after Round 1 of the 2009 SCORE Desert Series.
Current SCORE official annual sponsors are: BFGoodrich Tires-official tire, Volkswagen of America-official vehicle, Sunoco Race Fuels -official fuel supplier, Bilstein-official shock, Instant Mexico Auto Insurance-official Mexican auto insurance, Slime-official tire sealant and Red Bull--official energy drink. Associate sponsors are: Tecate Beer, Coca-Cola of Mexico, Las Vegas Events, Terrible Herbst Inc., Blue C Enthusiast Advertising, Off-Road, American Suzuki, SignPros, P.C.I. Race Radios, McKenzie's Performance Products and Advanced Color Graphics.
Associate sponsors for the Tecate SCORE San Felipe 250 are the Tourism and Convention Bureau of Mexicali/San Felipe, and Cotuco.
The race annually provides a greater economic impact to San Felipe than the entire month-long 'Spring Break'.
23rd Annual Tecate SCORE San Felipe 250
Round 2 of five-race 2009 SCORE Desert Series
March 13-15, 2009—232.4 miles
San Felipe, Baja California, Mexico
Total Entries: 181 (as of 2/25/09)
(from 16 States, Canada, Denmark, Italy, Mexico New Zealand & Germany)

Pro Cars & Trucks
SCORE TROPHY-TRUCK (20)
22 Damen Jefferies
96 Bobby Baldwin
1 B.J. Baldwin
35 Robbie Pierce
3 Mark Post
8 Roger Norman
77 Robby Gordon
13 Ed Stout
19 Troy Herbst
12 Brian Collins
50 Jason McNeil
24 Adam Householder
47 James Bult
51 Kory Scheeler
84 Nick Vanderwey
11 Greg Nunley
4 Gus Vildosola Jr.
2 Pete Sohren
40 Chet Huffman
16 Cameron Steele

CLASS 1 (14)
101 Josh Rigsby
102 Brian Parkhouse
103 Rob Bruce
104 Armin Schwarz
105 Harley Letner
106 Tim Herbst
107 Richard Boyle
108 Julio Herrera
109 Ronny Wilson
110 Dale Lenk
111 Armin Kremer
112 Chuck Sacks
113 Paul Keller
114 Randy Wilson

CLASS 1-2/1600 (15)
1601 Luis Martinez
1602 Arturo Velazco
1603 Samuel Araiza
1604 Mario Gastelum
1605 Brad Wilson
1606 Brian Wilson
1607 Myan Spaccarelli
1608 Cody Robinson
1609 Quentin Tucker
1610 Justin Davis
1645 David Caspino
1646 Roman Pereyra
1647 Eric Duran
1648 Marco Gallo
1649 Victor Barreda

CLASS 3 (2)
300 Donald Moss
349 Ken Leavitt

CLASS 5 (3)
501 Shaun Dunbar
500 Kevin Carr
519 Carlos Albanez

CLASS 5/1600 (4)
551 Alonso Angulo
552 Trevor Anderson
550 Marcos Nunez
579 Miguel Rosales

CLASS 6 (2)
601 Marc Burnett
602 Heidi Steele

CLASS 7 (4)
701 Jose Canchola Jr.
700 Dan Chamlee
703 Brandon Walsh
714 Heidi Steele

CLASS 7SX (4)
741 Nick Moncure
742 Oscar Solaiza
758 Eduardo Gonzalez
759 John Holmes

CLASS 8 (5)
801 Rodrigo Ampudia Jr.
802 Dave Crinklaw
803 Michael Brett
804 Clyde Stacey
805 Juan C. Lopez

CLASS 9 (1)
900 Daniel Reyes Jr.

CLASS 10 (6)
1001 Javier Robles
1002 Tito Robles
1000 Mike Lawrence
1004 Sergio Salgado
1005 Jesus Gonzalez
1049 Alejandro Navarrete

SCORE LITE (9)
1201 John Padgett
1202 Brent Parkhouse
1203 John Langley
1204 Lee Banning
1205 Michelle Bruckmann
1206 Ty Godde
1207 Dan Worley
1208 Gary Johnson
1200 Rick St. John

CLASS 11 (1)
1149 Eric Solorzano

STOCK FULL (2)
861 Clyde Stacey
862 Justin Matney

STOCK MINI (1)
779 Gavin Skilton

PRO MOTORCYCLES
CLASS 22 (5)
1x Robby Bell
2x Cameron Corfman
3x Kendall Norman
4x Colton Udall
5x Ivan Ramirez

CLASS 21 (5)
101x Carlos Becerril
102x Jeremy Purvines
103x Bill Boyer
104x Mike West
105x Hector Castillo

CLASS 20 (2)
151x Jesus Rios
150x Anna Cody

CLASS 30 (7)
301x Javier Hernandez
302x Sol Saltzman
303x Shane Esposito
300x Jim O'Neal
305x Mike Johnson
306x Justin Hambleton
307x Sean Bradley

CLASS 40 (3)
401x Brian Campbell
400x Scott Myers
449x Julio Abril

CLASS 50 (1)
500x Jim O'Neal

CLASS 60 (2)
608x William Rogers
609x Ramon Izuarieta

PRO ATVs
CLASS 25 (9)
2a Adolfo Arellano
3a Felipe Velez
1a Wayne Matlock
5a Jeff Hancock
6a Hunter Miller
7a Javier Robles
8a Greg Row
9a Nick Nelson
10a Santos Perez

CLASS 24 (11)
101a Jose Juarez
102a Victor Lopez
103a Jovany Pimental
104a Benjamin Lopez
106a Roberto Ruiz
107a Tom Wright
100a Craig Christy
109a Jorge Valenzuela
110a Abraham Romero
148a Shawn Robins
149a Luis Berumen

CLASS 26 (4)
201a Reid Rutherford
202a Jason Wade
203a Felicia Rodriguez
219a Rob Ransford

SPORTSMAN
SPT CAR (2)
1401 George Jackson
1400 Peter Lang

SPT UTV (3)
1801 Thomas Graves
1802 Peter Hajas
1803 Brian Hewett

SPT M/C (10)
201x Scott Anderson
202x Trisha West
203x Fred Sobke
204x Ben Harman
206x Matt Ladendorf
207x Rene Echegaray
208x Greg Willitts
209x Ryan Puckett
210x Daniel Castellanos
249x Louie Montano

SPT M/C (15)
251x Hank Salyer
252x Brock Campbell
253x Baxter Gillespie
254x Manuel Reyes
255x Oscar Fazz
256x Rusty Sexton
257x Bryon Schmidt
258x Craig Anstine
259x Jimmy Boutwell
260x Eric Anderson
261x Brent Downing
262x Jeff Leonard
263x Ken Kosiorek
264x Mike Short
299x Shawn Evans

SPT ATV (9)
50a Joselito Muro
51a Javier Guerrero
52a Brent Davis
53a Alberto Maya
54a Adrian Valdez
55a Daniel Montano
56a Samuel Fuson
57a Bill Hacker
99a Gustavo Ameca