&nbspDesertRacing.com > News Archives


[an error occurred while processing this directive]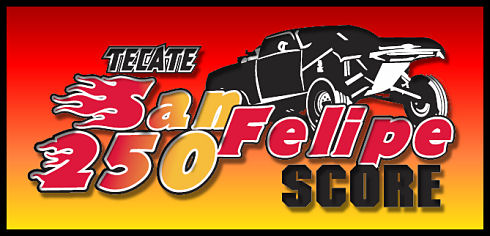 23rd ANNUAL TECATE SCORE San Felipe 250
Round 2 of the Five-Race
2009 SCORE Desert Series
March 13-15
San Felipe, Baja California, Mexico
Post-Race Racer Quotes
SCORE TROPHY-TRUCK
BRIAN COLLINS, No. 12 (First in class and first vehicle overall. This was Collinsí sixth career SCORE Trophy-Truck victory.) Ė No flats, nothing. It was just a perfect day. B.J. Baldwin (who was leading at the time) broke down and we got past him about race mile 190, I think. The truck was absolutely awesome. Billy (Goerke, my navigator) did a great job because if you would have asked me earlier today if we were going to win, I would have said ĎI donít know, itís going to be a long day.í But I put a plan together, being patient, and I told Billy thatís what we were going to do and he monitored my speed all the time down the real rough sections so we didnít have a flat or hurt our shocks and we just had a great day. Itís nice when you put a plan together and it works. You know the course is rough but you donít know if everybody else is going to follow the plan and have problems. Two SCORE San Felipe 250 wins in a row, thatís great. We had a hard time getting around the Herbsts at one point but I just stuck to my game plan of being patient and everyone else cooperated by having problems. I told people I was going to go slow off the start and no one ever believes you. I just drove my own race today and everyone came to me. Thatís a lucky day of racing and I wish every one of them were that way. Thereís a lot of season left and a lot of races but I canít say enough about the Collins Motorsports team. We had one faux pas today; we didnít fuel the fuel truck so the guys broke it down and switched it from one section of the course back to the other. We had to make two stops. We were just following B.J. Ė we were within a minute of B.J. Ė and I had three and a half minutes to get to him. They refueled the truck again, a second time, and that was the excitement of the day. But the guys were great. It was a great day Ė especially when you donít need anything but fuel. We were within a minute of B.J. Ė we had him all day Ė so we werenít really worried about it. Thereís no reason to try to pass on this course Ė itís too wicked. We just sat back there in the dust and watched him and stopped and got fuel a second time and reeled him in. It was just a perfect day. Billy (Goerke) really helped me today. Without him today, I wouldnít have done what I did today. Today, he gets the credit.
ROBBY GORDON, No. 77 (Second in class and second vehicle overall.) I got a flat tire about mile marker 40 and our jacks didnít work. I ended up getting back in the car and driving about a mile and a half on a flat tire to some locals that had a floor jack and were pitting their car. I had a breaker bar and that was our flat-tire changer. That was the only problem we had. We were 20 minutes behind (Brian Collins) at out first pit area, where we took fuel at mile 68, and I think he beat us home by about 10 minutes, so we had a good run. We didnít have any mechanical problems. I donít know why the impact gun and the jack didnít work but thatís the only problem we had. I almost got crashed by (Ed) Stout, who clobbered the back of us on Zoo Road (at about race mile 93). He didnít make it much farther than where he hit me. We were joking that he wasnít going to go very far and it was about 10 more miles and I think he had the rear suspension ripped off of it. The course was what we expected (but) it was surprising that (Brian Collins) had the run like he had, but he does that here all the time and I had a very strong run, too, so congrats to those guys. Weíll be back for the SCORE Baja 500. We continue our points lead. I like to win, but weíll take a second if we canít win.
MARK POST, No. 3 (Third in class and fourth vehicle overall.) We had a real nice run going and then we lost our drive shaft about race mile 100. And then I had about a five-minute flat but other than that, we had a solid day. But the drive shaft really killed our day. We changed the drive shaft on the course so that put us down pretty good. Other than that, the truck was flawless. That was the rockiest SCORE San Felipe 250 ever, Iíll tell you that. There was just no sand between the rocks anymore and all those washes have a zillion rocks. It made it a lot rougher course. When I had the flat, thatís when Robbie (Gordon) got by us.
JERRY WELCHEL, No. 40 (Fourth in class and sixth vehicle overall. Driver of record Chet Huffman drove the first 100 miles and Welchel finished.) It was a fun race. Chet did the first 100 and handed it over to me. There were some big rocks out there and Iím glad I had 39-inch tires.
ADAM HOUSEHOLDER, No. 24 (Fifth in class.) We got stuck out there and two quad guys stopped and helped push me out. If not, Iíd probably still be back there digging. I drove all the way and I had a good experience so weíll be back for the SCORE Baja 500 and possibly the SCORE Baja 1000. Weíre very happy. We had a good showing in Laughlin and decided to come here for the SCORE San Felipe 250 and see what would happen. I got a flat about 50 miles from the end and then I got stuck with 40 miles left. After getting out and changing the tire, I was winded. And then after getting stuck I was like, ĎThatís it, I was almost done.í I lost about 15 minutes, so the problems were substantial. But, hey, Iím stoked just to finish.
B.J. BALDWIN, No. 1 (Sixth in class.) I lost a (shock) bypass at (race mile) 190 but I could still go really well, but then I lost a ring gear about five miles later. I was doing well without the bypass Ė it wasnít holding me back too bad. I couldnít hit jumps or it would roll over and I couldnít hit big (curves) or it would roll over. I was going to start going really fast right about when we broke. What can you do? I had a great time anyway.
CLASS 1
RONNY WILSON, No. 109 (First in class and third vehicle overall.) We had zero problems. I probably got a ĎCí for listening to (my navigator) because I blew a lot of lines that he wanted me to take, but the car worked great. We had no flats, the Wik motor ran great, no problems with the gearbox. We had a lot of nervous moments. We almost threw it away a couple of times but we stuck to our game plan, we drove about 75 percent to the 61-mile mark and then we started pushing. Itís always a good sign when the Herbst helicopter is coming back to see where you are. We chased them and we passed them when they were getting fuel at (race mile) 192 and we were just on a mission after that. Iím glad theyíre back racing the desert but I wish they werenít as good as they were. What a day. The course was the same San Felipe course and we just love it down here.
TIM HERBST, No. 106 (Second in class and fifth vehicle overall.) The day went OK. We got stuck out there once and had one flat but other than that we had a pretty good day. I got stuck in the silt in a big ditch. I was going up into somebodyís dust and got stuck. There happened to be a guy with four-wheel drive Ė if not, I would have been there forever. (Are you glad to be back racing in score?) That was fun; that was a good time. I missed it a lot. I should have been better but this car was sitting in the mall (in Primm, Nevada) about six weeks ago. There was a lot of gum on it but the guys did a great job getting it ready to race. (Was there any rust on the driver?) Absolutely. You just canít jump into these things and go, thatís for sure. We hope to race all the races in Baja. Next is the SCORE Baja 500 and then the SCORE Baja 1000 and then maybe the Primm race. We are going to run a limited schedule but we are going to be back in Mexico, for sure. (You look different in the black car and the black fire suit after all those years in red.) Monster Energy Drink is a great partner of ours Ė not only on our off-road program, but also in our stores. We sell a lot of their product and weíre just happy to have the relationship with them.
MARTIN CHRISTENSEN, No. 104 (Third in class and ninth vehicle overall. Driver of record Armin Schwarz drove to race mile 120 and Christensen drove from RM 120 to the finish.) It was OK. We had some small challenges prior to the race. Pulling the car up to the starting line, we had a leaky control valve on the steering. We tried to change it out but for some reason, the line was not correct so we had to go back in with the old part. So that was a little havoc right up to the starting line, like two minutes before the start. We ran with it but weíve got pretty good capacity in the reservoir because weíve got a jacking system, so that saved the day. We didnít have to stop to add any (fluid). Weíre happy with our podium position here. For what we had going on, that was a good finish for All-German Motorsports.
CLASS 1-2/1600
JUSTIN SMITH, No. 1643 (First in class.) The run went perfectly. Really, it was a flawless day. I had a rear pivot bushing go out on me about mile 30 but I was able to milk it enough the whole way to make it last. Other than that there were no issues. I was a little bit worried about some of the competition but we had a good pre-run and everything worked out. A lot of guys were breaking and rolling and pushing too hard. It was a rough course so I knew there was going to be a lot of endurance involved and we definitely played it smart and did what we could do to make sure we were here at the finish. We went to Laughlin hoping to come out a little better but we ended up ninth. But to come out here and win in San Felipe is just phenomenal. Hopefully we can keep it going.
CLASS 5
KEVIN CARR, No. 500 (First in class.) The course was a lot more torn up than pre-running, Iíll tell you that much. Everything went real well. We only had one flat, shortly after Matomi (near race mile 145). I think I hit it in Matomi and it just kept going down until it went flat. It (the course) took its tool but the car held up. I think itís harder to finish this race than, say, the SCORE Baja 500 because this course beats you up.
CLASS 5/1600
NORBERTO RIVERA, No. 550 (First in class. Driver of record Marcos Nunez started and drove to race mile 122. Rivera drove from RM 122 to the finish.) It was a clean race. No flat tires, nothing bad. This was the second consecutive win here in San Felipe. Last year, I finish the race too. Iím very happy.
CLASS 6
MARC BURNETT, No. 601 (First in class.) It was a good run. Pretty much all day we had a good run going, we just had to take it slow because we were overheating a lot Ė ever since the beginning. It was really hot. The alternator went bad about 160 miles in and we had no radio the whole way back. Other than that, it was good. This is the second time racing SCORE in the truck and we won the SCORE Baja 1000 and this one here so weíre really happy about it. Weíre 2-for-2 in this truck. The only other thing was we hit the Cops (Racing) guys Ė they wouldnít let us go by so we had to push them out of the way. But it was a pretty flawless race Ė no flats. We were nervous about the temperature the whole way through but we just dealt with it. Iím going to continue driving solo Ė I Iron Manned the SCORE Baja 1000 and Iím going to Iron Man every race from now on.
CLASS 7
JOSE CANCHOLA JR., No. 701 (First in class.) Everything was fine. I drove it the whole way and it was a very clean race. Everything was perfect Ė no flats, no trouble Ė and we had a very good race. It was pretty rough today, pretty rough. I never did get challenged by another (Class) 7 car all day. I pre-ran three times so I knew the course pretty well.
CLASS 8
MIKE THURLOW, No. 802 (First in class. Driver of record Dave Crinklaw started and drove to race mile 92 and Thurlow drove from RM 92 to the finish.) Dave (Crinklaw) took it to mile 92 in perfect and delivered me a truck that was barely dirty and I put the pedal down from then on and had a blast. No problems, a lot of fun and the truck ran great. It was a great course. We were saying, ĎCome on, bring us more, thatís not enough.í I had a lot of fun. We got stuck just for a little bit but our crew was there in about five minutes. My biggest thing was I got a cactus in my toe. It was right where I pressed the gas so maybe thatís why I didnít get any flats. I may have to do that more often.
CLASS 10
MIKE LAWRENCE, No. 1000 (First in class.) I got stuck in the silt at race mile 114 and had to get pulled out. Besides that, it was smooth sailing. Some locals were there and they helped us out Ė greatest fans in the world. I only lost about two minutes, at most. We had really low oil pressure. We stopped once just to make sure everything was good. We fueled up and cruised around the course. I drove the whole way. We had a couple nervous moments. Right after Zoo Road (about race mile 93), I almost went end over end. The car didnít like it but besides that, I kept my cool. I just figured Iíll let everybody else make the mistakes and Iíll drive my race. The course was even rougher than during pre-running.
SCORE LITE
RICK ST. JOHN, No. 1200 (First in class.) It was great. This car is so awesome, itís unbelievable Ė itís almost like cheating, this car works so well. Adam Pfankuch started and he took a rear start and he just drove past everyone. Itís too easy, almost. He gave me the car in first place halfway through and all I had to do was keep it there. We hit a cactus and while we were digging out the cactus, I hit a rock so there was a little downtime. Other than that, it went well.
PROTRUCK
MAX POST, No. 233 (First in class.) I rolled the truck about mile 96, somewhere around there. I was in dust and there was a turn I really didnít see. It landed on its top but some people came over and helped us flip it back over. We lost about five or seven minutes, thatís about it. That was the only problem we had. We hit a few things Ė I donít think thereís one piece of bodywork left. I drove the whole way and it was fun. The course was really rough, but fun. The truck handled really well.
Pro Motorcycles
CLASS 22
KENDALL NORMAN, No. 3x (First in class, first motorcycle to finish and fifth vehicle overall. Norman started and rode to race mile 30, Tim Weigand rode from RM 30 to 166.9 and Norman rode from RM 166.9 to the finish.) It wasnít a walk in the park. I got knocked silly for a second. I was going good the first eight miles and I slowed down when it got super rocky and I tagged a rock and rode the front wheel for like 50 feet and finally ate it. When I crashed I hit my head and when I went to get up, I fell on the ground again. I got back up and going and the next 500 yards, the same thing happened, but this time I didnít go down. We just had a solid ride. We were behind our teammates, the 4x, but when they came into the pit where I got on, they had radiator problems and lost all of their coolant and they had to change it. We took over the lead again then and just cruised in. Luckily I donít hit my head very often so when I do, I donít get hurt too bad. I made it out of there alive.
JEFF KARGOLA, No. 4x (Second in class, second motorcycle ton finish and eighth vehicle overall. Subbed for rider of record Colton Udall, who has a broken wrist. Kargola replaced Udall at the 50-foot mark and rode to race mile 30. Quinn Cody rode from RM 30 to RM 166 and Kargola rode from RM 166 to the finish.) It was the same as pre-running, just a lot faster and it seems the rocks come a lot faster. I didnít fall off but I got real close to getting off Ė those rocks, when youíre hitting them doing 80 miles an hour, it has a tendency to throw you over the bars. Iím happy we (Johnny Campbell Racing) finished 1-2. (How much time do you think you lost replacing the radiator?) I donít know, how much did he beat me by? Twelve minutes? We lost about 12 minutes (laughing).
CLASS 21
CARLOS CASAS, No. 100x (First in class. Casas rode to race mile 120, Noe Ibarra rode from RM 120 to 177 and Casas finished.) We just had to change a tire, but otherwise we had no problems. I want to thank South Bay Motorsports for all their help. We struggled a lot to get here and it paid off. It was a great race for us. We werenít even going to race three weeks back because we didnít have the money. At the last moment, our friends threw together some money and South Bay Motorsports helped us out with a lot of tires and parts. Weíre going to keep on going, for sure.
CLASS 20
HECTOR CASTILLO, No. 154x (First in class. Split riding duties with Sergio Valenzuela, David Gonzalez Jr. and Rene Pojodes.) We borrowed a (Yamaha) WR250 at 9 oíclock last night before the race. We had no issues, no tire changes; we just brought it around. Weíre really happy.
CLASS 30
MIKE JOHNSON, No. 305x (First in class. First career SCORE class victory. Johnson rode the first 30 and the last 70 miles. Rex Cameron rode the middle leg.) It ran great. Iím tired but, overall, I feel pretty good. We were hoping for a good finish and this is pretty good for us. Weíre happy with it. We had no problems at all; everything went good. We didnít even have to change a tire. From the first day of pre-running to the last day, the course changed a lot. We ran (Thursday) and it didnít change a lot from then. Going through some of those washes, with all those imbedded rocks, was pretty scary. Going at a high speed and hitting one of those (rocks), thatís what split the rear rim. It happened in one of those washes but we were able to finish. Iím real happy. This is our first time getting first in our class. Last year we were top 10 in the SCORE San Felipe 250, the SCORE Baja 500 and the SCORE Baja 1000, so this is great.
CLASS 40
BRIAN SWEENEY, No. 401x (First in class. Shared riding duties with driver of record Brian Campbell, Bill Cotton and Pete Cochran.) I rode to the first pit and handed it over in first place and got it back in first place at the last pit, so everybody did their job. I had a blast out there. It was real rough. You could find some smooth lines but sometimes they were a lot longer so it was just better to pound up the middle. (Did you have any close calls?) A (passenger) car pulled right onto the course in front of me. I had to lock up the brakes to keep from hitting it. This is my first time doing this Ė Iíve never done a Baja race before. My teammates have been on me for the last four or five years to come and do this stuff with them. They wanted someone who was good in the whoops and that was my job. (Will you race in the Baja 500?) If these other guys (my teammates) are, Iím in. Iím hooked.
CLASS 50
JIM OíNEAL, No. 500x (First in class. Shared riding duties with Dan Dawson, Andy Kirker and Tim Withers.) After the week we had, all I wanted to do was finish. I told everybody, Ďjust get thereí and we hung in there. We had Dan do the start, Andy did a little section of whoops, we also had Tim Withers and it was mainly Dan. They did a great job because we were up against a tough team (the No. 501x of Charlie Marshall). We just hung tough and everybody did well. They were ahead of us off and on but we were always close, but I donít know what happened to them. The 300x team, that was a real rough ride. We had three riders get hurt and transfer to the local hospital ... for x-rays and broken bones and stitches and everything. Then I called a couple old friends and, no pre-running or nothing, and our leadoff guy, who was a rookie to Baja but a good desert racer, crashed and destroyed that bike in the first 15 miles, so we rode that thing all day with bent bars, no number plate, no light, no front brake ... and weíre just really happy to get this finished. Weíll have our regular team in the SCORE Baja 500 and everybody had better look out because itís going to be business as usual. I donít accept second-place trophies Ė the guys can have them, I donít want them.
Pro ATVs
CLASS 25
WAYNE MATLOCK, No. 1a (First in class. Matlock rode to race mile 25; Harold Goodman Jr. rode from RM 25 to RM 93; Josh Caster rode from RM 93 to RM 170; and Matlock rode from RM 170 to the finish.) The last time I heard, we had about an eight-minute lead so everything couldnít have been better. I had no plan Ė just ride as fast as I can and see what happens. It looks like it worked out good. We didnít even change tires; we just put gas in and didnít have any problems. You canít ask for more. Iím ready to go again Ė you always are when you win. It was rough out there but it was fun. The biggest obstacle has always been keeping ourselves on the bike. We did that and everything worked out great. This is our fourth win here in the San Felipe 250, so thatís great. This has always been my favorite race just because the atmosphere is so great.
CLASS 24
CRAIG CHRISTY, No. 100a (First in class. Shared riding duties with Dave Scott, Steve Abrego and Andy Lagzdins Ė each rode a quarter of the race, with Christy finishing.) It was real rough. We got the lead a little early, lost it in the silt beds but Iíve got the greatest team and they all pulled it together. Weíre just happy to have our second first in SCORE. No surprises today. The bike was flawless and it just kept going and going. We were out here for at least seven full days of pre-running and the course just got rougher. A lot of rocks got dug up by the big trucks but some good lines presented themselves, too. We had some good competition. There were at least two guys that we were real worried about. We won the championship last year and we won the SCORE Baja 1000 last year and we just wanted to see if we could make it stick and apparently we can. Weíre coming to the SCORE Baja 500 looking for a first.