&nbspDesertRacing.com > News Archives


[an error occurred while processing this directive]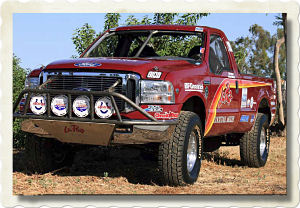 Two previous BAJA 500 winners
look for another win at the upcoming
41st Annual Tecate Score BAJA 500
Both Tim Casey (La Paz Racing and former Ford Rough Rider) and Mark Handley (Solar Racing) have their share of victories in Baja, including a win for each of them at the legendary SCORE BAJA 500. This year, they look to combine their Baja experience for a win together
About the race: The 41st BAJA 500! It is Round 3 of the five-race 2009 SCORE Desert Series, the World's Foremost Desert Racing Series, will feature over 250 entries, competing in 28 Pro and 6 Sportsman classes for cars, trucks, motorcycles and ATVs, will be held June 4-7 in Ensenada, Mexico. Traditionally one of the most popular events on the SCORE schedule, over 150,000 spectators are expected to enjoy the world's best desert racers in action at this year's 41st anniversary of the Tecate SCORE Baja 500.
With late entries excepted up to race morning, over 250 entries are expected from 25 U.S. States, and 10 countries. The green flag will drop for the race at 6 a.m. on Saturday (June 6) for the motorcycle and ATV classes in the Tecate SCORE Baja 500, followed by the car and truck classes three hours after the last ATV at approximately 10 a.m. The elapsed-time race will start and finish in front of the Riviera del Pacifico Cultural Center on Boulevard Costero in the heart of Ensenada, leaving and returning into the city through the spectator-laden Arroyo Wash. The #861 La Paz Racing F-250 will drive off the starting hill sometime after noon, and will finish the grueling race sometime after midnight
About La Paz Racing: Tim Casey of La Paz Cocktail Mixes is the Owner/Driver of the La Paz Racing F-250. Tim is the son of off-road legend Larry Casey, and father of up and coming Trophy Kart racer, Scott Casey. Sponsors of La Paz Racing include La Paz Cocktail Mixes, Fabtech Suspension, CLH Refrigerated Trucking, F.S. Cellars, Lucas Oil, and Brea Community Tire.
About the truck: The #861 "Stock Full" is a 2005 Ford V10 F-250. It is equipped with 37inch BFGoodrich Baja Project Tires, Bilstein Shock absorbers, and graphics by SignPros.
About Solar Racing: Mark Handley is Owner/Driver of the Solar Racing F-150.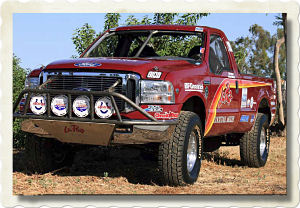 For information contact:
SCORE International at its Los Angeles headquarters
(818) 225-8402 or visit
the official 2005 SCORE Desert Series website at:
www.score-international.com